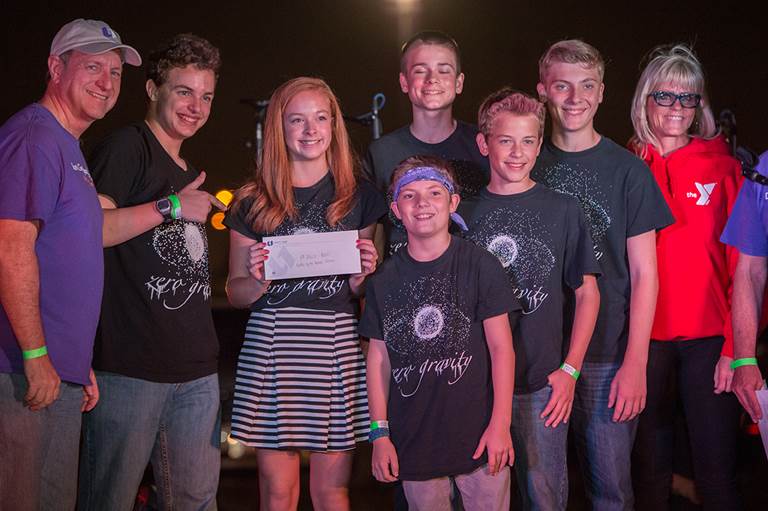 Public rocks out to spank free banking
Unity One Credit Union celebrates end of awareness campaign through ultimate Random Act of Kindness
FORT WORTH, TX (October 24, 2014) — On October 24, Unity One Credit Union celebrated the end of its slap-happy Spank Free Banking Campaign by sponsoring the Northpark YMCA's annual Boo Bash. The event, which featured a battle of the bands contest, free food and carnival games, was attended by nearly 1,500 area residents.
The highlight of the event, the battle of the bands competition, featured local artists chosen by the public on Facebook. "Incorporating the public in the decision making process was crucial to the success of the competition," said Erayne Hill, VP of Marketing at Unity One Credit Union.
Interested bands were encouraged to apply online through a dedicated landing page on Unity One's website. Those applications were then transferred to a Facebook album where the public could listen to the music and cast their vote. Many bands entered, but only three were selected to play the night of the event.
The winning band Zero Gravity, comprised of youth ages 10-14, received a cash prize of $500. "We are going to hit the recording studio with our winnings," said Reese Hyatt, singer and keyboardist.
"Boo Bash was our ultimate Random Act of Kindness and a great way to end our Spank Free Banking campaign. Unity One is proud to have partnered with the
Northpark YMCA for this grand finale event," said Hill.
While this year's campaign may be over, Spank Free Banking at Unity One is not.
Employees will continue to encourage the public to stop getting spanked by banks and stand up for better.
About Unity One Credit Union
Established in 1927, Unity One Credit Union is the oldest credit union in Texas. A member-driven and not-for-profit cooperative, Unity One CU served the employees and families of the BNSF Railway for 70 years. However, after transferring its corporate headquarters to Fort Worth in 1998, the credit union expanded its field of membership to include other non-railroad companies, organizations and individuals.
Today, anyone who lives, works, worships or attends school in Fort Worth, Blue Mound, Saginaw, Haslet, Keller, Colleyville, Bedford, North Richland Hills, Southlake, St. Paul, MN and Kansas City, KS may apply for membership. Unity One CU has seven branches to serve over 30,000 members nationwide. For more information about Unity One Credit Union, visit www.unityone.org. Think outside the bank.™www.unityone.org
About The YMCA of Metropolitan Fort Worth
With more than 120 years of service, the YMCA of Metropolitan Fort Worth, impacts our community by serving over 103,000 with an emphasis on youth development, healthy living and social responsibility. Programs range from youth sports, child care and swimming to wellness, family events and senior adult programs. The YMCA of Metropolitan Fort Worth operates 13 branches in Tarrant, Johnson and Hood County and reaches a six-county service area.  www.ymcafw.org
(L to R) Gary Williams, President of Unity One Credit Union; winning band Zero Gravity; Kim Hutchison, District Executive Director for the YMCA.
---