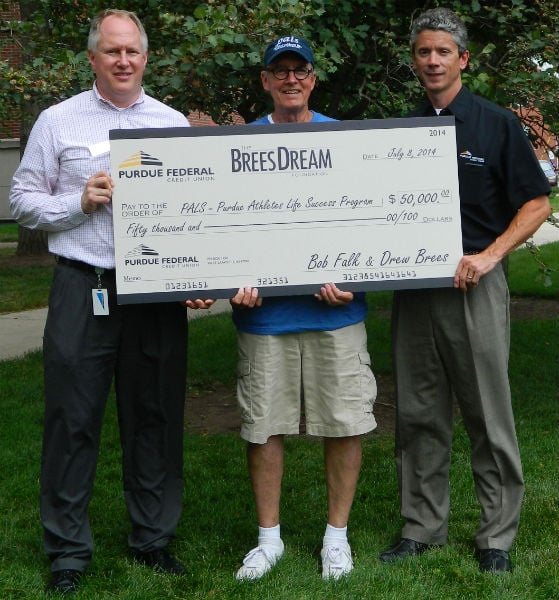 Purdue Federal, Brees Dream Foundation Gives $50,000 to Purdue Athletes Life Success Program
WEST LAFAYETTE, IN (July 8, 2014) — Purdue Federal Credit Union (Purdue Federal) President and CEO Bob Falk presented a $50,000 check from Purdue Federal and The Brees Dream Foundation to the Purdue Athletes Life Success (PALS) camp on Monday, July 7, 2014.
Since 2007, Purdue Federal and The Brees Dream Foundation have jointly given approximately $375,000 to PALS, which provides sports, fitness, life and health instruction to area youth ages 8-14 whose parents or guardians meet Department of Health and Human Services income guidelines. The funds support operation of PALS, ensuring area youth have a place where they learn valuable life skills during the summer.
Purdue Federal and The Brees Dream Foundation look forward to leveraging the strength of their relationship for the benefit of PALS and the Lafayette-West Lafayette community.
About Purdue Federal
Purdue Federal Credit Union (Purdue Federal) was founded as Purdue Employees Federal Credit Union (PEFCU) on the Purdue University campus in 1969. In December 2010, PEFCU acquired Members United Federal Credit Union through a merger. At the time of merger, the credit union changed its name to Purdue Federal to better reflect its membership base, which includes students, faculty and staff, and communities where Purdue University and its regional campuses operate. Purdue Federal is a member-owned financial cooperative with more than 60,000 members nationwide and assets at more than $775 million.
About The Brees Dream Foundation
The Brees Dream Foundation was founded in 2003 with a mission to improve the quality of life for cancer patients, and provide care, education and opportunities for children and families in need. Brittany and Drew Brees, and the Brees Dream Foundation have collectively committed and/or contributed just over $20,000,000 to charitable causes and academic institutions in the New Orleans, San Diego and West Lafayette/Purdue communities.
---