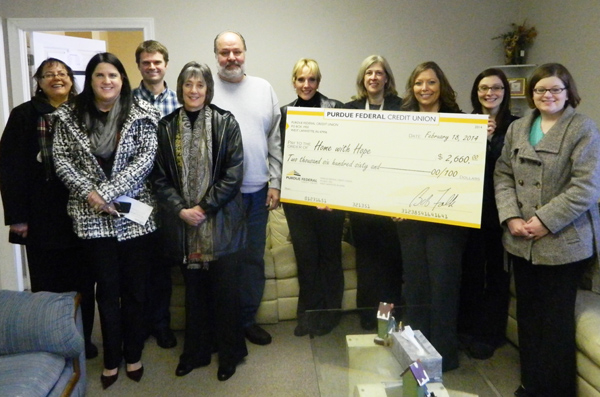 Purdue Federal donates to Home with Hope
WEST LAFAYETTE, IN (February 21, 2014) — Purdue Federal Credit Union (Purdue Federal) staff recently delivered a special gift to Home with Hope, Inc.—a check for $2,660 to help with electrical upgrades. Home with Hope is the only facility in the Lafayette area that provides structured living and transitional services for alcoholics and addicts who are committed to the Twelve Step, self-help recovery program.
The donated funds were raised during Purdue Federal's annual Skip-a-Pay promotion, which lets members with qualifying loans skip their December 2013 or January 2014 loan payment for a small administrative fee. Each year a portion of that fee is donated to a local charity. The promotion benefits members by alleviating some financial stress around the holidays as well as the community through a charitable contribution to a local nonprofit organization.
About Purdue Federal
Purdue Federal Credit Union (Purdue Federal) was founded as Purdue Employees Federal Credit Union (PEFCU) on the Purdue University campus in 1969. In December 2010, PEFCU acquired Members United Federal Credit Union through a merger. At the time of merger, the credit union changed its name to Purdue Federal to better reflect its membership base, which includes students, faculty and staff, and communities where Purdue University and its regional campuses operate. Purdue Federal is a member-owned financial cooperative with more than 60,000 members nationwide and assets at more than $775 million.
---