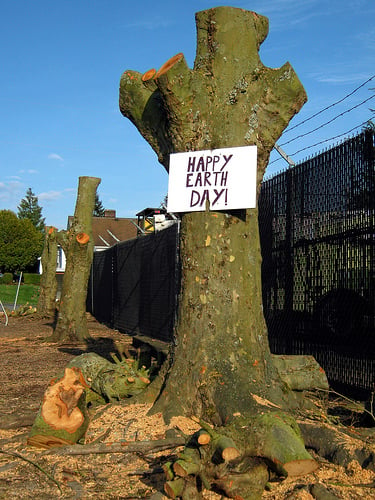 Quit Wasting Paper! Honor Earth Day 2013 by Finally Signing Up for Online Banking
To celebrate Earth Day 2013, which is Monday, April 22, leading finance site www.GoBankingRates.com just released a new guide to greener banking. The resource includes instructions on how to go paperless with e-statements and online banking, and highlights top banks and credit unions offering paperless billing incentives.
LOS ANGELES, CA (April 20, 2013) – For over 40 years, Earth Day celebration has represented a time for everyone to take a pause from their busy lives to think about how they can help make our planet a better place to live. Over time, technology has advanced to a level where individuals can make choices that will have a much bigger impact on the globe than it could have back in 1970 — nowhere is this more evident than in the banking industry.
For decades, banks, credit unions and their customers have been buried under mountains of paper. Whether it is statements, applications, or advertisements, the traditional approach for banks has been to print it out on paper.
The Paperless Billing Revolution
Over the past decade, a movement toward online banking, as well as paperless billing and statements has gained momentum. While opt-in rates for paperless billing and statements are still below where many financial institutions would like, online banking has exploded. The transition to mobile in recent years has been a boon to the industry, especially with the under-40 crowd. By leveraging technology, banks and their customers have found many ways to reduce the amount of paper they use, having a tremendous environmental impact.
About Earth Day 2013
As the idea of going paperless continues to take hold, we have been reminded each Earth Day of the impact we can make on the planet by doing so. Here are the details of Earth Day 2013:
What is Earth Day? Earth Day history spans back to 1970 when it was first celebrated in America with activities that focus environmental issues. It was formally recognized by the UN in 2009 as International Mother Earth Day.
When is Earth Day 2013? Earth Day celebrations will fall on Monday, April 22 this year.
What is the theme for Earth Day 2013? "The Face of Climate Change" is the theme this year, and it speaks to the interconnectedness of people, plants, and animals, and how changes in the climate are directly influenced by choices we make.
With this in mind, one of the best Earth Day celebration ideas is to commit to switching to paperless banking, in the form of online banking and e-statements. There are numerous paperless billing benefits, and they are not all about convenience to the customer. As more and more people make this transition, the need to harvest trees will be drastically reduced. Plus, this will also reduce the energy costs associated with printing and the supplies, from shipping to producing ink cartridges, as well as keep more paper out of our landfills.
Continue reading the article here.
For questions about this article or to speak with a GoBankingRates editor, please use the contact information below.
About GoBankingRates
GoBankingRates.com is a national website dedicated to connecting readers with the best interest rates on financial services nationwide, as well as informative personal finance content, news and tools. GoBankingRates collects interest rate information from more than 4,000 U.S. banks and credit unions, making it the only online rates aggregator with the ability to provide the most comprehensive and authentic local interest rate information.
---