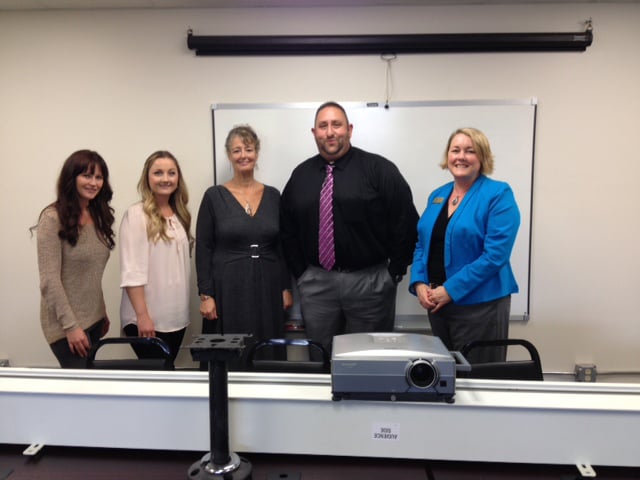 Redwood Credit Union donates projector and screen to help local youth programs
UKIAH, CA (October 24, 2014) — Redwood Credit Union (RCU) recently donated a projector and automatic screen to the Arbor Youth Resource Center in Ukiah to help them with educational and recreational programs for transition-age youth.
"RCU's generous gift greatly improves the Arbor's ability to offer trainings, presentations and the always-popular Inspirational Movie Night," said Stephanie Paige, Program Manager for the Center. "Developing and maintaining community relationships is what makes the programs at The Arbor possible; donations like this projector help keep this center not only a safe place for teens, but also a fun one."
"RCU is committed to supporting our local community and we're happy to support The Arbor with their efforts to provide the resources and services needed by young people in transition," said Earl Chavez, RCU's Assistant Branch Manager for Ukiah.
Redwood Credit Union actively supports nonprofits in the Ukiah community including the Mendocino County Human Race, the Mendocino College Foundation, and the Ukiah Valley Christmas Effort.
About Redwood Credit Union
Founded in 1950, Redwood Credit Union is a full-service financial institution providing personal and business banking to anyone living or working in the North Bay or San Francisco. As a financial cooperative focused on people not profit, RCU offers complete financial services including checking and savings accounts, auto and home loans, credit cards, online and mobile banking, business services, commercial and SBA lending, investment and financial planning services and more. The Credit Union also offers a variety of insurance products and discount auto sales through their wholly-owned subsidiary. RCU currently has more than $2.4 billion in assets and serves over 237,000 Members with 17 full-service branch locations from San Francisco to Ukiah, more than 30,000 fee-free network ATMs nationwide and convenient, free online and mobile banking. For more information about RCU, please call 1 (800) 479-7928 or visit www.redwoodcu.org.  
About The Arbor Youth Resource Center
The Arbor's primary purpose is to act as a hub that centralizes resources specific to transition age youth, providing a learning environment and services to empower and support teens to become independent and successful adults. In 2007, The Arbor started with 500 youth members. Today, The Arbor has nearly 1,600 members, and sees approximately 50 youth per day at their new site located at 800 North State Street in Ukiah.  For more information about The Arbor, visit http://rcs4kids.org/arbor-youth-resource-center.
Photo – pictured (l to r):  Willow Anderson, The Arbor Communications Officer; Stephanie Paige, The Arbor Program Manager; Sharon Govern, The Arbor Administrative Director; Earl Chavez, Redwood Credit Union Assistant Ukiah Branch Manager; Kristie Strickler, Redwood Credit Union Ukiah Branch Manager
---