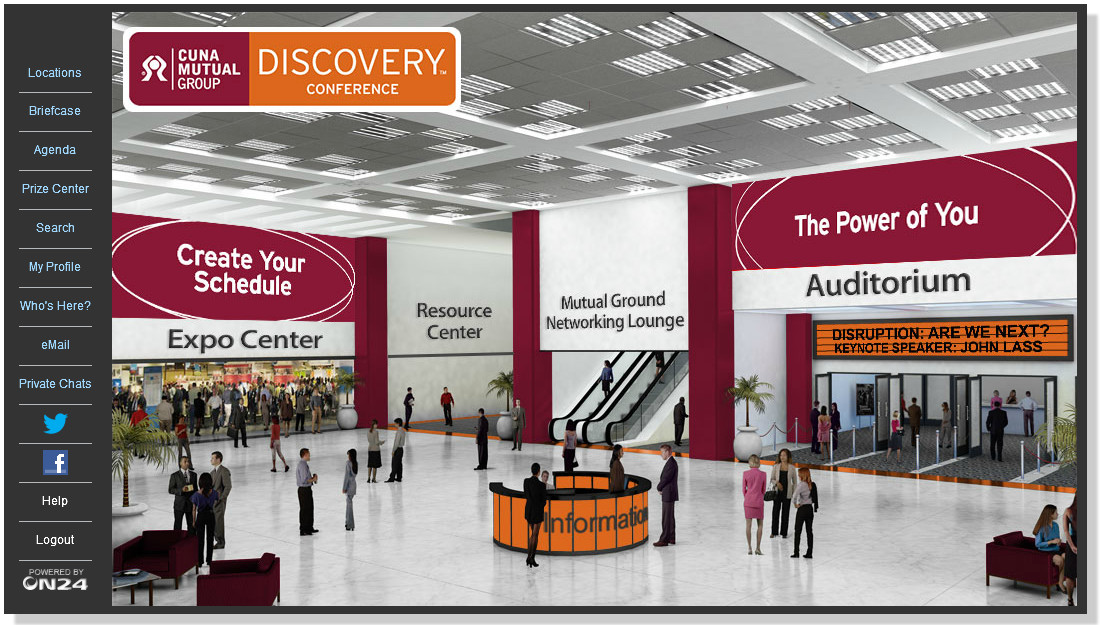 Register for CUNA Mutual Group's Discovery Conference Today
Fifth Annual Event Features Dynamic Sessions Focused on Credit Union Issues
MADISON, WI (August 27, 2014) — CUNA Mutual Group's fifth annual, day-long Discovery Conference scheduled for Oct. 15, offers 13 credit union-focused sessions from the convenience of your desk – for free.
The Discovery Conference is the Web-based equivalent of a face-to-face conference without the associated expenses or time away from the office. "The beauty of participating online is the convenience," said Christy LaMasney, manager of Discovery for CUNA Mutual Group. "It requires absolutely no travel, hotel, or time away from the office and it's free for everyone."
This year's agenda features valuable and timely information on the most important topics and trends in the industry.  The conference offers 13 credit union-focused sessions, scheduled live chats, networking opportunities, including chat rooms and message boards, an exhibit hall and prizes. In addition, registration guarantees access to conference materials after the event is over.
John Lass, senior vice president of strategy & business development for CUNA Mutual Group, is the keynote speaker. Lass will speak on how retail financial services could be disrupted by new technologies and business models, and what actions credit unions could take to mitigate the impact. In addition, the conference will feature several industry thought leaders:
Ben Rogers, research director at Filene Research Institute, speaking on "Gen Y Personal Finances: A Crisis of Confidence and Capability;"
James Robert Lay, president of CUGrow, speaking on "Digital Marketing for Business Development;"
Gary Weuve, vice president of the Center for Advisor Excellence for CUNA Brokerage Services, Inc., speaking on "The Rules of the Retirement Game Have Changed for Members – The Credit Union's Role;"
Tim McAlpine, president of Currency Marketing, speaking on "Better Together: Uniting Marketing & IT for Success;"
Steve Rick, director and chief economist for CUNA Mutual Group, speaking on the "U.S. Economic Outlook and Its Impact on Credit Unions;"
Brad Keller, senior vice president and program director for The Santa Fe Group, speaking on "Building and Maintaining an Effective Third Party Risk Program;"
Theresa Reinke, compliance consultant for CUNA Mutual Group, speaking on "TILA/RESPA Integrated Disclosures – It's a Whole New World;"
Jay Isaacson, vice president of commercial products for CUNA Mutual Group, speaking on "Cyber Exposures: Rules, Regs, and Risk;"
Bryce Roth, co-founder of ChatterYak!, speaking on "What You Need to Know About Compliance and Social Media;"
Steve Hoke, director of loan growth for CUNA Mutual Group, speaking on "Exciting Trends in Auto Purchasing;"
Stephen Arnold, vice president and direct-to-consumer business leader for CUNA Mutual Group, and Eric Hallinan, senior consultant for MarshBerry, speaking on "The View from Here: An Eyes-Wide-Open Approach to Insurance Distribution Models;"
Chris Silveira, manager of fraud intelligence for Guardian Analytics, speaking on "Mobile Banking: Trends, Threats, and Fraud Prevention Techniques."
Each thought leader session will feature video, audio, and a question and answer portion.
The online event is designed for CEOs and senior leadership teams of credit unions, but all credit union and league employees are welcome.
"Attendees can come and go from the conference as they please," said LaMasney. "This provides great flexibility to allow many staff members from the same organization to attend, if even for just a few hours."
Register and view the agenda at www.cunamutual.com/register.
CUNA Mutual Group was founded in 1935 by credit union pioneers, and our commitment to their vision continues today. We offer insurance and protection for credit unions, employees and members; lending solutions and marketing programs; TruStage®-branded consumer insurance products; and investment and retirement services to help our customers succeed. More information is available on the company's website at www.cunamutual.com
CUNA Mutual Group is the marketing name for CUNA Mutual Holding Company, a mutual insurance holding company, its subsidiaries and affiliates. Life, accident, health and annuity insurance products are issued by CMFG Life Insurance Company. Property and casualty insurance products are issued by CUMIS Insurance Society, Inc. Each insurer is solely responsible for the financial obligations under the policies and contracts it issues. Corporate headquarters are located in Madison, Wis.
---