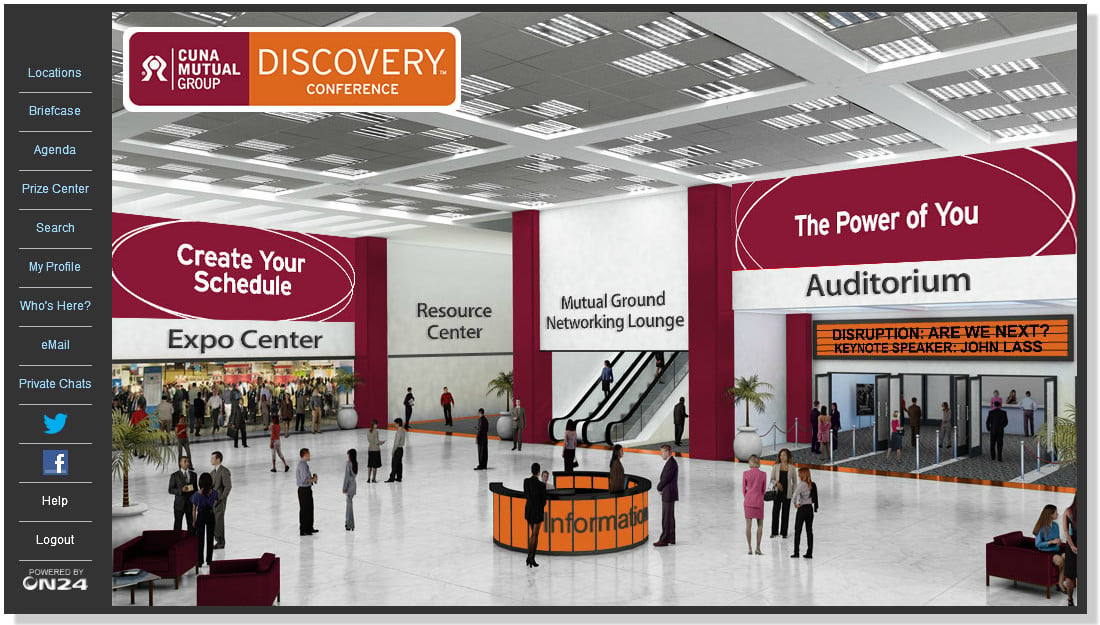 Register today: Discovery Conference quickly approaching
Time Remaining to Participate in CUNA Mutual Group's Free Oct. 15 Online Conference
MADISON, WI (October 6, 2014) — CUNA Mutual Group's fifth annual, day-long Discovery Conference on Oct. 15, makes learning easy by turning credit union computers into personalized conference halls.
The Discovery Conference is the Web-based equivalent of a face-to-face conference without the expense – it's free. On the day of the conference, conference participants won't pick-up a badge or registration packet; instead, they will simply log-on from their computer and choose their first session to attend.
"Conference participants will interact in much the same way they would if they were attending a face-to-face conference," said Christy LaMasney, manager of Discovery for CUNA Mutual Group. "Participants will attend sessions and ask questions of the presenters, click through the Expo Center, download business cards, and chat with other conference attendees," she added.
The conference offers 13 credit union-focused sessions, scheduled live chats, networking opportunities, including chat rooms, an exhibit hall, and prizes. In addition, registration guarantees access to conference materials after the event is over.
"The beauty of participating online is the convenience," said LaMasney. "Participants control their day, content, and experience all without leaving their desk, and will leave with the power to take action in their credit union."
Take a tour of the conference, and then register for the event. More than 1,300 credit union professionals have registered to date.
The online event is designed for CEOs and senior leadership teams of credit unions, but all credit union and league employees are welcome.
"Attendees can come and go from the conference as they please," said LaMasney. "This provides great flexibility to allow many staff members from the same organization to attend, if even for just a few hours."
To view the agenda, read the session descriptions, and see which industry thought leaders will be presenting, visit the registration website.
CUNA Mutual Group was founded in 1935 by credit union pioneers, and our commitment to their vision continues today. We offer insurance and protection for credit unions, employees and members; lending solutions and marketing programs; TruStage®-branded consumer insurance products; and investment and retirement services to help our customers succeed. More information is available on the company's website at www.cunamutual.com
CUNA Mutual Group is the marketing name for CUNA Mutual Holding Company, a mutual insurance holding company, its subsidiaries and affiliates. Life, accident, health and annuity insurance products are issued by CMFG Life Insurance Company. Property and casualty insurance products are issued by CUMIS Insurance Society, Inc. Each insurer is solely responsible for the financial obligations under the policies and contracts it issues. Corporate headquarters are located in Madison, Wis.
---