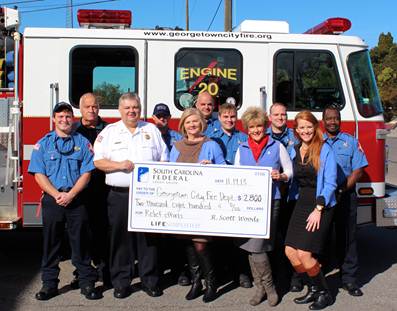 Relief Fund Check presented to Georgetown City Fire Department
N. CHARLESTON, SC (November 21, 2013) — On Tuesday, South Carolina Federal Credit Union employees presented a check in the amount of $2,800 to the Georgetown City Fire Department. The donation was in response to the fire that devastated buildings along Front Street in historic Georgetown on September 25, 2013.
Accounts were established at South Carolina Federal Credit Union locations to allow the community to contribute, while a bake sale was held in conjunction at the Georgetown branch. Credit union employees were encouraged to participate through internal drives, in addition to a corporate donation.
The Georgetown City Fire Department will put the funds collected to use in purchasing and updating equipment for fighting fires within the community.
About South Carolina Federal
South Carolina Federal Credit Union is headquartered in North Charleston.  More than 140,000 members own and belong to the not-for-profit financial cooperative, which has over $1.3 billion in assets. South Carolina Federal is a community-chartered credit union. Anyone who lives, works, worships or attends school in Berkeley, Charleston, Dorchester, Calhoun, Orangeburg or Georgetown counties, and most of the Columbia area, is eligible to join. South Carolina Federal has 17 branches, and 74 ATMs throughout Charleston, Columbia and Georgetown. More information about South Carolina Federal can be found at scfederal.org or on the SiMPLE CENTS blog at simplecentsblog.org.
---