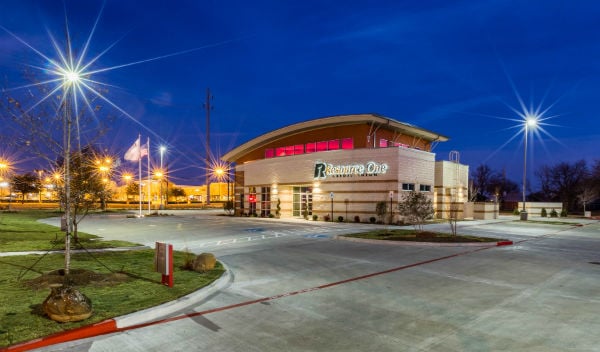 Resource One Credit Union opens new North Garland Branch
GARLAND, TX (March 5, 2015) — LEVEL5 is pleased to announce the grand opening of a new branch for Resource One Credit Union in North Garland 2475 Arapaho Road, at the intersection of Shiloh and Arapaho.
"We've been a part of the Garland community for some time now, and felt it was time to increase our presence there" said Jim Brisendine. "Residents in the area now have two convenient Resource One Credit Union Garland locations to choose from."
Retail design is abundant inside the refreshingly comfortable space. Eliminating the traditional teller line and instead using Dialogue Pods help achieve a concierge-like level of one-on-one personal service for every member that walks through the door.
"We've created a physical environment that makes it easy to engage with our members and comfortable to conduct business in" said Doug Bedner, COO.
"The Credit Union team is embracing the advantages that a retail approach can have on member satisfaction and branch performance" said Jeff Ensweiler, Vice President of LEVEL5. "The ability for employees to engage members one-on-one improves the overall member experience and creates opportunities to take relationships deeper."
In addition to the retail-focused interior space, the branch was designed with a clerestory to maximize its physical exposure from the intersection and surrounding area. Not only does the additional building height help draw attention, but color changing LED lights shine through the clerestory at night creating essentially an after-hours billboard that is sure to catch the attention of those nearby.
To see more branch images click here.
About Resource One Credit Union:
Since 1936, Resource One has been delighting members with over 40,000 members worldwide today. Our commitment to service, growth and innovative financial products is best expressed through our Vision Statement: Our Members' One Resource. Like all credit unions, Resource One is a not-for-profit financial cooperative that is owned by the people who save and borrow here. Resource One Credit Union membership is available to persons who live or work in Dallas or Northwest Harris (Houston) counties or within a 10 mile radius of our Carrollton branch. Additionally, the Credit Union offers membership eligibility to employees or associate members of various companies and organizations. It's easy to become a member of Resource One. Visit any of the convenient Resource One service centers near you, call us at (214) 319-3100or visit us online at www.r1cu.org.
About LEVEL5
Headquartered in Atlanta, with other offices strategically located to best serve its clients, LEVEL5 is a consulting and facilities development firm that works exclusively with community-based financial institutions across the United States. For a decade LEVEL5 has assisted hundreds of financial institutions in the development and implementation of growth strategies through its unique services that include consulting, real estate, integrated design, construction management and branding. For more information visit the company's website at www.level5.com.
---