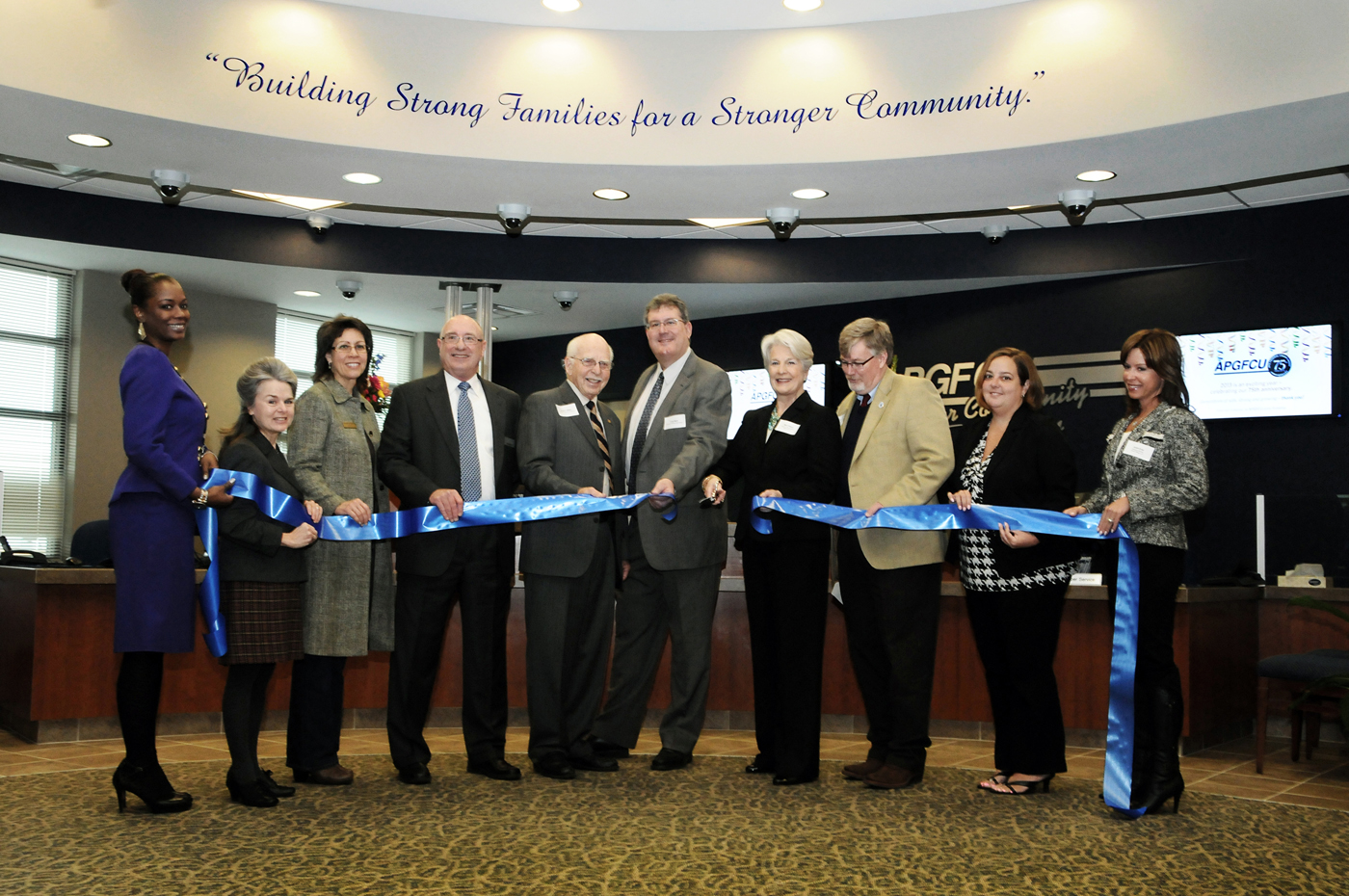 Ribbon Cutting Ceremony Held For APGFCU's New Fallston Branch
ABERDEEN, MD (April 1, 2013) – On Friday, March 15, 2013, executives from APG Federal Credit Union (APGFCU) met with Harford County officials and local dignitaries at 210 Mountain Road in Fallston, MD, for a ribbon cutting ceremony to celebrate the opening of its eleventh branch.
In attendance were Mary Chance, director of administration, Harford County; Jim Richardson, director, Harford County Office of Economic Development; Jackie Euler, owner of Aumar Village, LLC; Jeanette Lucas, director, Aberdeen Chamber of Commerce; Christine Sullivan, director, administration and finance, Harford County Chamber of Commerce;  David Gilbert, APGFCU chairman;  William Schultheis, APGFCU executive vice president;  and representatives of Frederick Ward Associates, Paul Risk Associates, and local business owners.
Located in the Aumar Village Shopping Center at the intersection of Route 1 and Mountain Road, APGFCU's Fallston branch offers a full range of financial products and services, lobby tellers, member service representatives, and is equipped with safe deposit boxes,  a 24-hour drive-up ATM and a night deposit drop. The lobby is open Monday through Thursday from 9:00 a.m. to 5:00 p.m., Friday from 9:00 a.m. to 6:00 p.m., and Saturdays from 9:00 a.m. to 1:00 p.m.
APGFCU is committed to building strong families for a stronger community with nine branches in Harford County and two in Cecil County.  Membership is free and open to everyone who lives, works, worships, volunteers, or attends school in Harford or Cecil County.
For more information, visit APGFCU.com or call 410-272-4000, and press four.
APG Federal Credit Union, with over 99,000 members and assets of $948 million (2/28/13), has a community charter to provide financial services to everyone who lives, works, worships, volunteers or attends school in Harford or Cecil County. Eleven branches are located in Aberdeen, Aberdeen Proving Ground (on Post), Amyclae, Bel Air, Edgewood, Elkton, Fallston, Forest Hill, Havre de Grace, Laurel Bush, and North East. APGFCU is a not-for-profit, member-owned cooperative. Credit Union services are available 24/7.  For information, call 410-272-4000 or visit APGFCU.com today.

---