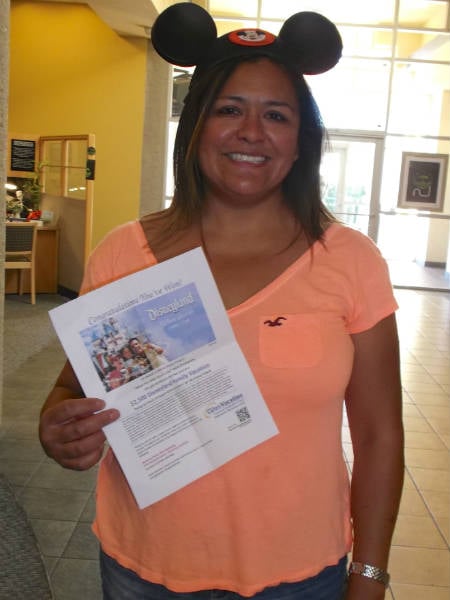 Riverside resident wins Disney vacation from Altura Credit Union
RIVERSIDE, CA (September 25, 2013) — Riverside resident Jessica Lopez recently won a Disney Vacation Package valued at $2,500 from Altura Credit Union, the Grand Prize of a loan promotion to let peopleknow about Altura's terrific auto loan rates.  Four other finalists each walked away with $500.  Those winners are:  Jessica Abreo from Riverside, Robert Escobar from Moreno Valley, Yesenia Menodoza from Hemet and John Driskel from Corona.
The "When You Wish Upon A Car" promotion was held from July 15 to Aug. 31. Anyone who submitted an auto loan application to Altura during the promotion period was automatically entered to win.  People also could enter by mail, or by completing a sweepstakes entry at one of Altura's branches.
In addition to offering low rates on new vehicles, Altura also finances used autos  and offers refinancing on existing high-rate auto loans.
The five finalists were chosen at random from among the entries. Those five gathered at Altura' Magnolia Avenue branch in Riverside. Their names were pulled from the hat and each then selected from among five envelopes containing the various prizes.
Altura is very proud of its 56 years of service to Members in the Inland Empire.  Today Altura is open to anyone who lives, works, attends school or worships in Riverside and San Diego counties, as well as selected cities in Orange and San Bernardino counties.  Altura Credit Union, www.alturacu.com, has been recognized with the California Award for Performance Excellence (CAPE), the state's equivalent of the Malcolm Baldrige National Quality Award.  Today, Altura Credit Union 86,500 members and has $704.6 million in total assets.  For more information on Altura, visit our website, www.alturacu.com, or call 1-888-883-7228.
---