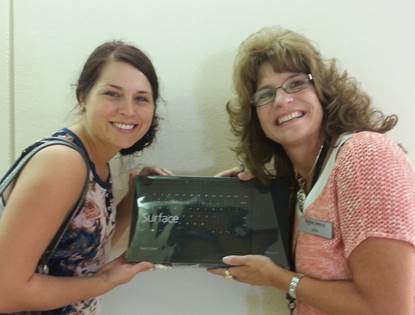 Robins Federal Credit Union awards September First Friday winner
MACON, GA (September 16, 2014) — Robins Federal Credit Union recently awarded a Microsoft Surface tablet with accessories to Courtney Moore, winner of the September First Friday drawing.
This contest was part of September First Friday, which is hosted by Robins Federal Credit Union and NewTown Macon. Central Georgia residents were invited to visit Robins Federal Credit Union's Macon branches to register for the tablet.
For more information on First Friday events, visit www.maconfirstfriday.com.
Caption: Julie Mixon, Riverside Branch Manager presents the winning tablet to Courtney Moore
Robins Federal Credit Union is a local non-profit financial cooperative with nineteen branches in central Georgia. Robins Federal currently provides financial services to over 157,000 members, with assets exceeding $1.9 billion. Membership is open to anyone who lives, works, worships or attends school in the 16 counties Robins Federal serves.
---