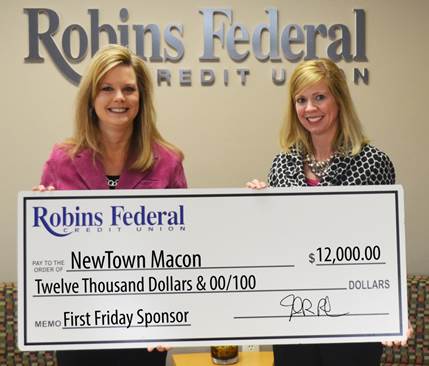 Robins Federal Credit Union continues sponsorship of Macon's first Friday
MACON, GA (February 10, 2014) —  Robins Federal Credit Union is proud to continue their partnership with NewTown Macon as the presenting sponsor of First Friday. Robins Federal Credit Union has sponsored this event for the past 4 years. As a member of the downtown community, with a branch on Mulberry Street, Robins Federal understands the importance of the revitalization work that NewTown Macon is doing and are happy to continue their support through this sponsorship.
Downtown Macon celebrates on the first Friday of each month with art, music and food that everyone could enjoy from children to adults. For more information on First Friday events, visit www.MaconFirst.Friday.com.
Robins Federal Credit Union is a local non-profit financial cooperative with nineteen branches in central Georgia. Robins Federal currently provides financial services to over 152,000 members, with assets exceeding $1.8 billion. Membership is open to anyone who lives, works, worships or attends school in the 16 counties Robins Federal serves.
---