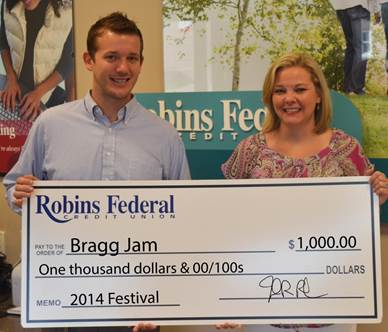 Robins Federal Credit Union sponsors Bragg Jam
MACON, GA (July 15, 2014) — Robins Federal Credit Union recently sponsored Bragg Jam with a $1,000 contribution to the Music Festival. This event will take place Friday, July 25th through Saturday, July 26th.
Caption: John Flanders, Mulberry Branch Manager with Robins Federal Credit Union presents a check to Bragg Jam's Leighanne Etheridge
Robins Federal Credit Union is a local non-profit financial cooperative with nineteen branches in central Georgia. Robins Federal currently provides financial services to over 155,000 members, with assets exceeding $1.9 billion. Membership is open to anyone who lives, works, worships or attends school in the 16 counties Robins Federal serves.
---