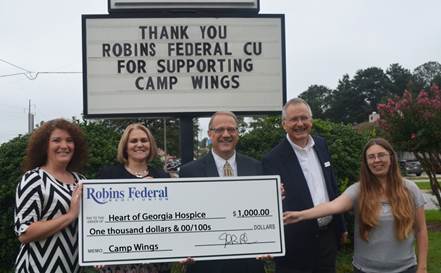 Robins Federal partners with hospice to give kids WINGS
WARNER ROBINS, GA (August 1, 2014) — Robins Federal Credit Union recently sponsored Camp WINGS by contributing $1,000 to the Heart of Georgia Hospice. The camp will be held November 7th through November 9th.
Heart of Georgia Hospice has hosted Camp WINGS for the past decade. The camp is held for youth ages 6-16 who are grieving the loss of a loved one. In addition to normal camp activities, the children receive free grief counselling while living among people their own age who have experienced similar situations. The children learn about the grieving process and how to move forward with their lives. For more information, visit www.heartofgahospice.org.
Caption: Hillary Bobbitt, Communications Specialist and Barbara Mead, Chantilly Branch Manager with Robins Federal Credit Union presents a check to Heart of Georgia Hospice's Tim Poole, Executive Director; Gene Saunders, Chaplain; and Robin Morris, Volunteer Coordinator
---