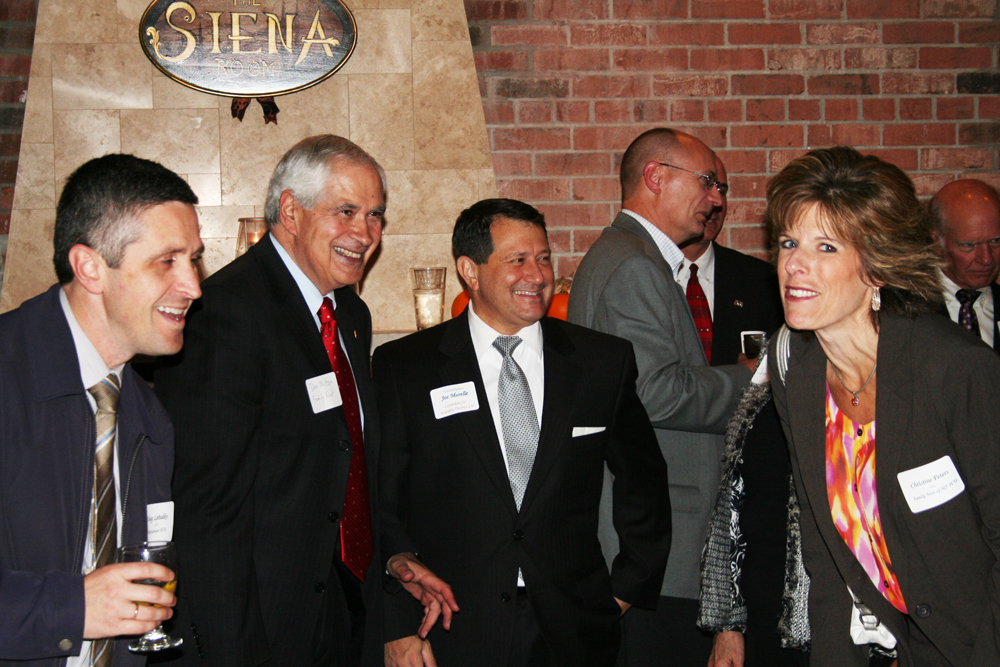 Rochester Area Credit Unions Build Support at Lawmakers Reception
(Albany, NY) – More than 50 credit union advocates from Rochester area credit unions recently hosted an evening reception for lawmakers and candidates at the Pomodoro Grill & Wine Bar in Rochester.  The group, along with staff from the Credit Union Association of New York, used the occasion to share with legislators what credit unions are doing in their districts and beyond.
Attending the post-International Credit Union Day celebration were Assembly members Harry Bronson, Sean Hanna, Joe Morelle, Bob Oaks, Senator Joe Robach and Chris Collins, candidate for the 27th Congressional District. Representatives from Rep. Louise Slaughter, assemblymembers Brian Kolb and Mark Johns, and assembly candidate Bill Nojay's office were also in attendance.
Bronson, Hanna, Morelle, Oaks, Robach and Collins each took a turn addressing the group, reinforcing their support of credit unions and expressing gratitude for the support of their credit union constituents.
Collins praised credit unions for their service to small businesses in providing critical loans that commercial banks turn away.  "I can't imagine why any lawmaker would not sponsor legislation that helps our small businesses without costing the government a cent," he said, referring to H.R. 1418, the Small Business Lending Enhancement Act.
Acting as Master of Ceremonies was Pamela Heald, president/CEO of Reliant Community CU.  Heald thanked the legislators for their support of credit unions and ended the evening with a brief overview of Money & Me, a youth financial literacy program developed by the New York Credit Union Foundation.
The Credit Union Association of New York has served as the trade association for the state's credit unions for 95 years. New York credit unions have assets of more than $57 billion and serve 4.6 million members. To learn more about the Association, visit www.cuany.org.
---