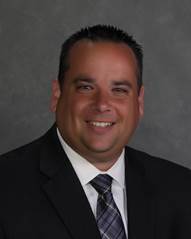 Ryan Reffitt named commercial loan officer for Educational Community Credit Union's business solutions team
KALAMAZOO, MI (September 5, 2014) — Ryan Reffitt has joined the staff of Educational Community Credit Union (ECCU) as a Commercial Loan Officer. In his role, Reffitt will be working with area businesses for their commercial lending needs, including real estate loans, credit lines, equipment loans, and SBA (Small Business Administration) loans. He will also be responsible for developing new and existing business relationships as well as increasing product awareness to members.
Reffitt brings 10 years of commercial lending experience to ECCU. "I love working with members and problem-solving," says Reffitt. "Yet the most rewarding aspect of my position is creating solutions with business owners."
Reffitt believes in the credit union's cooperative philosophy, and the collaboration ECCU encourages with its members. "Members aren't just a loan number," explains Reffitt. "We care about their financial well-being and them personally." His priority is to ensure each member's business grows and meets its goals. "I want members to see me as their trusted advisor, now and into the future."
Reffitt creates a range of financial solutions for both common and uncommon business issues. "Together, we develop a roadmap towards increased profitability, decreased risk, and ultimately maximized owner equity." Reffitt shares in the ECCU vision to be the preferred commercial lender in West Michigan as a result of its exceptional member service and solution driven approach.
Reffitt holds a Bachelor of Arts Degree in Economics from St. Joseph's College (Indiana). A resident of West Michigan all his life, he's committed to the community and people he serves. Reffitt is currently on the Board of Trustees for Girl Scouts Heart of Michigan, serves as Treasurer for the Southwest Michigan Professional Network, and is a member of the Downtown Kalamazoo Rotary Club.
Married with two young sons, Reffitt likes to play with his kids, golf, and snowboard.
About ECCU
Established in 1935, ECCU has grown from serving only Kalamazoo school employees, to serving the greater educational community, to now providing a full range of financial products and services to anyone who lives, works, worships or attends school in any of our 21 Michigan counties. The credit union exceeds $414 million in assets and serves more than 36,000 members. Visit eccu1.org to learn more about membership and why ECCU just feels right, and our members feel right at home.
---