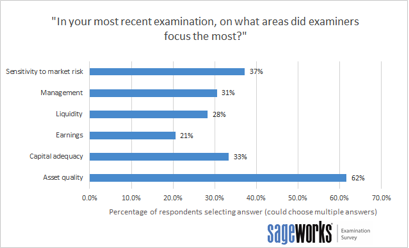 Sageworks survey: What examiners are examining
(July 22, 2015) — A new survey of banks and credit unions on the feedback they receive from regulatory agencies
Federal safety and soundness examinations are among the most important events in the life of a bank, thrift or credit union. Financial institutions spend months preparing, trying to anticipate examination concentrations and avert problems.
All U.S. banks and credit unions are required to undergo a safety and soundness examination every 12 to 18 months, but the specific focus areas of each exam can differ by agency, region, time period, the institution's individual risk and the particular examiners involved, among other factors. While regulatory guidance about the exams is plentiful, many financial institutions seek additional information regarding how examinations may progress.
Sageworks, a financial information company that provides credit risk management solutions to financial institutions, recently sought insight into this process from institutions that have recently undergone examinations. The Sageworks Bank & Credit Union Examination Survey aimed to provide banks and credit unions greater clarity into current examiner expectations, especially surrounding specific areas such as credit administration, the allowance for loan and lease losses (ALLL) and asset quality. Highlights from this survey have been outlined below. The full report is available for download here.
While other areas also received attention, 60 percent of respondents named asset quality as an area receiving most of the focus from examiners at the Office of the Comptroller of the Currency (OCC), the Federal Deposit Insurance Corporation (FDIC), the Federal Reserve and the National Credit Union Administration (NCUA).
"Asset quality could be a catch-all category, but in general, examiners want to make sure banks have higher quality assets and that they're properly accounted for in terms of risk," said Sageworks Senior Risk Management Consultant Robert Ashbaugh. "Examiners are really focused on that whole portfolio and the mix and the overall quality of the portfolio."
Fortunately, many respondents also said asset quality was the area for which they were most prepared. Numerous institutions said the groundwork had been laid in response to previous criticism, or, as one FDIC-examined bank put it, "due to severe beatings taken over [the] last several years." Others reported having implemented new underwriting systems or new ways to monitor and resolve problem loans, and some indicated that improving economic and loan-performance trends mean examiners' spotlights are shining less brightly on asset quality.
Banks that are not required under the Dodd-Frank Act to stress test, generally those under $10 billion in assets, have nonetheless been encouraged in recent years by regulators to implement the practice as part of sound risk management. In addition, new rules under Basel III will impose significant changes to the regulatory capital framework, likely making stress testing a more useful tool for risk management at these smaller institutions.
The 2015 Sageworks Exam Survey found that many respondents, 99 percent of which had assets below $10 billion, have received recommendations and criticisms related to their current stress testing practices. In fact, over three quarters of respondents are either already implementing stress tests, have been asked to expand their stress testing or have been asked to start stress testing by examiners.
58 percent of institutions are already stress testing, even though they are not required to do so by Dodd-Frank. One-third of institutions received pressure from examiners, who asked them to start or expand stress testing, including a handful (3 percent) of respondents who said examiners required the institution to implement stress testing by the next exam.
Banks and credit unions faced more criticism related to credit administration practices than with other practices like credit underwriting and adequate capital levels. Almost one-quarter of institutions reported being criticized for credit administration, but only 6 percent of those were required to take action related to credit administration practices. Documentation and organization came up repeatedly in respondents' open-ended comments about exams and advice for their peers.
"Make sure you have a good system for tracking and requesting financial information," said one respondent. "Our examiners looked closely for technical exceptions." Another institution noted that something as simple as failing to have a copy of borrowers' forms requesting tax-filing extensions year after year can trip up banks – even if you have the actual tax returns that were eventually filed.
"Proper credit administration practices, documented by operating procedures, can give the regulators, the comfort they require in order to ensure that all aspects of the loan process are properly managed and adhere to prudent lending practices," said another. Another respondent put it more bluntly: "If it's not in the file or documented, it did not happen."
Representatives from 180 financial institutions participated in the online survey, conducted between April 6 and June 6, 2015. Poll respondents, who were not randomly selected, included Sageworks financial institution clients as well as members of the "ALLL Forum for Bankers" LinkedIn Group, recipients of Sageworks newsletters and institutions who found the Survey through its media coverage. Respondents included chief executives, chief financial and chief credit officers, credit analysts, compliance and risk management staff and institutions' third-party consultants involved in the examination.
For the comprehensive 20-page report outlining the full survey results, please email research@sageworks.com.
About Sageworks
Sageworks is a financial information company that provides risk management, financial analysis and business valuation solutions to accounting firms and financial institutions. Visit www.sageworks.com to learn more.
---