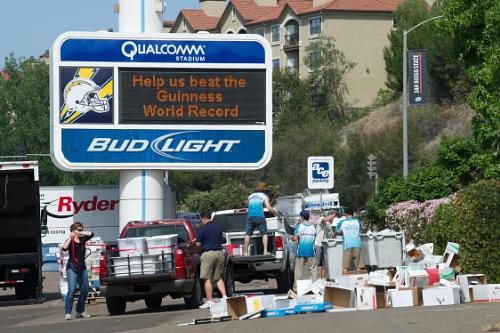 San Diego County Credit Union takes back Guinness World Record at SDCCU Super Shred Event
SDCCU has collected and shredded more than one million pounds of paper since 2007, protecting thousands of people and saving over 9,700 trees
SAN DIEGO, CA (August 13, 2014) — San Diego County Credit Union® (SDCCU®), San Diego's largest locally-owned financial institution, set a new Guinness World Record® at the recent SDCCU Super Shred Event, collecting and shredding 422,350 pounds of paper, protecting the community and saving 3,590 trees. The overall impact of the SDCCU Super Shred Event was impressive thanks to the more than 7,000 people who turned out at Qualcomm® Stadium on July 26 to properly dispose of confidential information and set the new record for most paper collected in a 24-hour period at a single location.
SDCCU began hosting its free Shred Day events in 2007 and has since collected, shredded and recycled more than 1.1 million pounds of documents at no charge, saving over 9,700 trees (every 120 pounds shredded represents one saved tree).
"SDCCU is committed to helping our customers and the community protect their confidential data and privacy," said Teresa Halleck, SDCCU President and CEO. "We are dedicated to preventing identity theft as well as our efforts to go green with our online banking services, such as eStatements and eReceipts."
The SDCCU Super Shred Event began early Saturday morning, July 26, with hundreds of SDCCU customers, families, friends and members of the public lining up with boxes full of old documents containing personal and confidential information to be shred at no charge. Shred-It®, the world's leading document destruction and recycling company, provided the shredding services. The first 1,000 people who took advantage of SDCCU's free shredding services received a free gift. Throughout the day, participants enjoyed free food provided by Mike's BBQ and made donations to the San Diego Humane Society and SPCA, raising nearly $8,500.
LinkServ E-Waste was onsite to collect and recycle electronic waste. LinkServ's "We Pay 10" program yielded $2,000 in donations for the San Diego Humane Society and SPCA, which contributed to the total raised during the one-day event.
"SDCCU would like to thank the entire community for banding together to help take back our world record and be a part of history. The response from the community was unbelievable—we are grateful for the overwhelming show of support," said Halleck. "More importantly, we are happy that more than 7,000 people took advantage of the free shredding services and no longer have sensitive information sitting around their homes and offices."
In July 2013, SDCCU organized the effort to collect and shred 168,147 pounds of paper, setting their first Guinness World Record for the most paper collected in 24 hours at a single location. That record was beat by an organization in Texas in April 2014 with 401,925 pounds of paper collected.
San Diego County Credit Union is San Diego's largest locally-owned financial institution serving San Diego, Riverside and Orange counties. SDCCU has assets of $6.5 billion, over 270,000 customers, more than 30 convenient branch locations and 30,000 surcharge-FREE ATMs. SDCCU provides breakthrough banking products that meet the demands of today's lifestyle and delivers banking services that save customers money. SDCCU is leading the way, offering FREE Checking with eStatements, SDCCU Mobile Deposit, mortgage loans, auto loans, Visa® credit cards and business banking services. Federally insured by NCUA. Equal Housing Opportunity. For more information, visit www.sdccu.com.
---