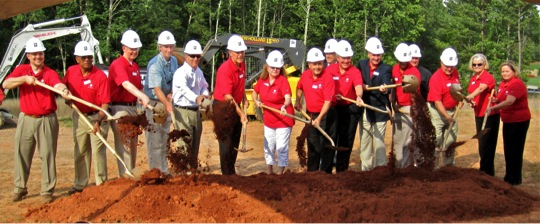 SC Telco Federal Credit Union breaks ground on new full service branch in Verdae development
GREENVILLE, SC (July 30, 2014) — The Board of Directors and Staff Members of SC Telco Federal Credit Union broke ground on its new Verdae branch with a ceremony on Thursday, July 24th. Speakers at the event included Greenville Mayor Knox White, Verdae Development President & CEO Rick Sumerel, SC Telco FCU Board Chairman Steve Griffin and SC Telco FCU President & CEO Steve Harkins.
The new full service branch will be conveniently located at 601 Verdae Boulevard (at the corner of Verdae Boulevard and Rocky Slope Road) and is expected to open in early 2015 to replace the existing storefront in Verdae Village. The new branch will offer members an enhanced banking experience in a clean and spacious layout, reflecting the refined brand style of the Verdae Development. The branch will also offer 3 drive-thru lanes, a 24-hour ATM, and dedicated parking to better serve its growing membership and community.
"This new flagship branch in the heart of the Verdae development extends our commitment to Greenville and the Upstate of South Carolina" said Steve Harkins. "We have been honored to serve this area for nearly 80 years, and believe SC Telco can build upon our strong heritage of making a positive difference in the financial lives of our members, and in the communities we serve."
SC Telco Federal Credit Union was chartered in 1935 as a not-for-profit financial cooperative with over 46,000 members and $265 million in assets. Headquartered in Greenville, SC, the credit union also has branches in Easley, Spartanburg, Columbia and Florence.
---