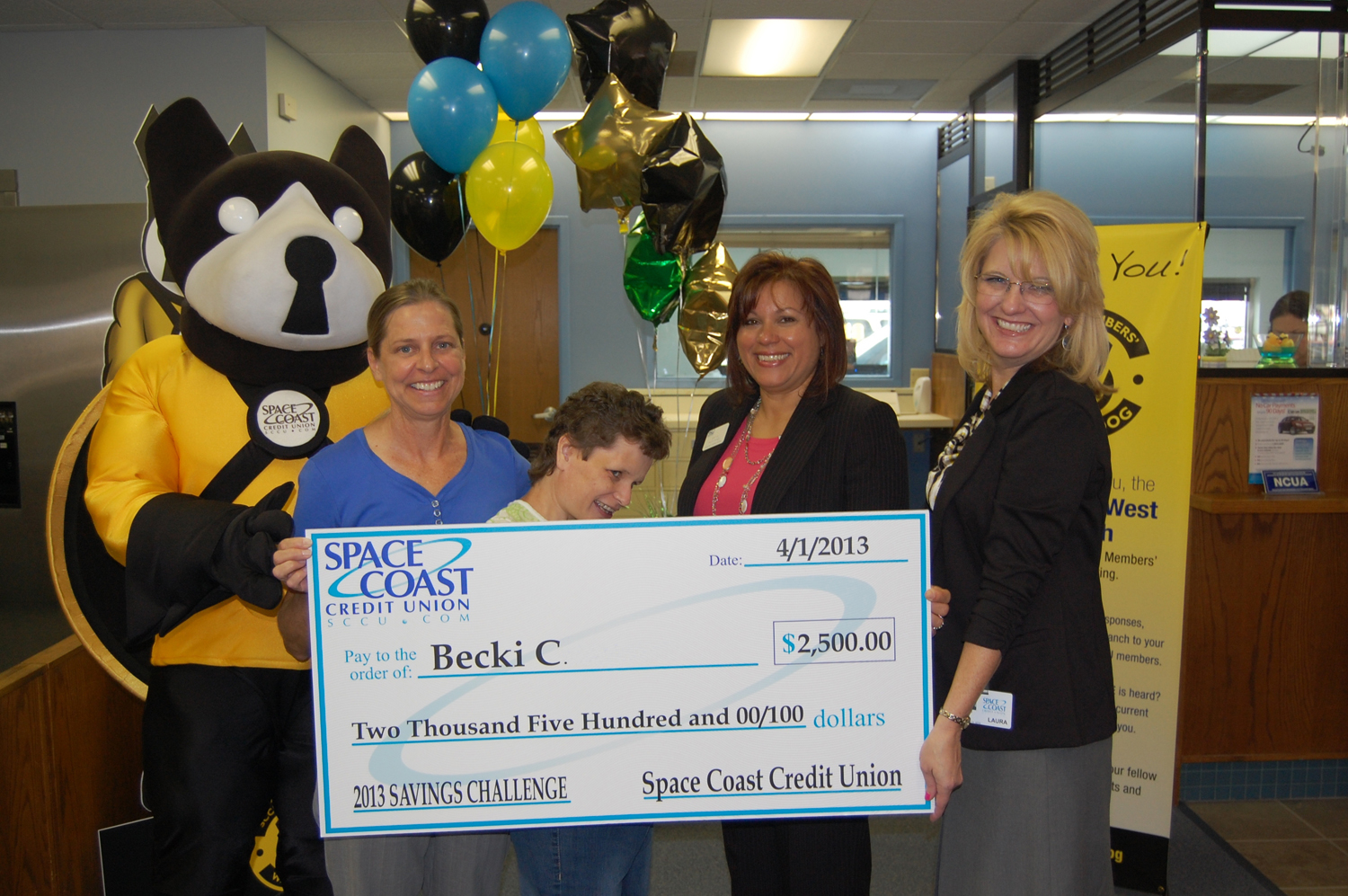 SCCU Awards $2,500 To Savings Challenge Winner
MELBOURNE, FL – Saving money always feels good, and for one lucky Space Coast Credit Union (SCCU) member it was especially rewarding!  Becki C. of Palm Bay, Florida took the SCCU Savings Challenge and won $2,500!
A member of SCCU since 1992, Becki was selected at random from among hundreds of entrants in the credit union's first quarter Savings Challenge Sweepstakes. During January and February, the credit union challenged participants to call the credit union and allow SCCU representatives the opportunity to find savings with their current mortgage, auto loan, credit card, and/or checking account. No purchase was necessary to enter the sweepstakes.
"Space Coast Credit Union's loan rates and checking fees are extremely competitive, and we were confident that given the chance we could save our members money," explained Laura Richard, SCCU's Vice President of Marketing. "The chance to win $2,500 provided an added incentive for people to take time out of their busy lives and call us."
During the eight-week sweepstakes period, SCCU initiated more than 400 mortgages, 2,000 auto loans, 1,000 credit cards, and almost 4,000 checking accounts.
Becki received the grand prize Monday during a check presentation at SCCU's Palm Bay West Branch. When asked what she might do with her winnings, Becki indicated she planned to pay it forward by giving a portion to a friend in need.
"As a mother of a special needs child, I have been the recipient of many acts of generosity and I feel it's only right to do the same for others," said Becki upon receiving her prize.
Space Coast Credit Union was chartered in 1951 and is headquartered in Melbourne, Florida. The Credit Union serves over 239,393 members with assets of over $3 billion through a network of 57 branches and over 100 ATMs located throughout Florida and through its web site, SCCU.com. Space Coast Credit Union is open for membership to anyone who lives or works in the fourteen Florida counties it serves. Locations can be found at SCCU.com/locations.
---