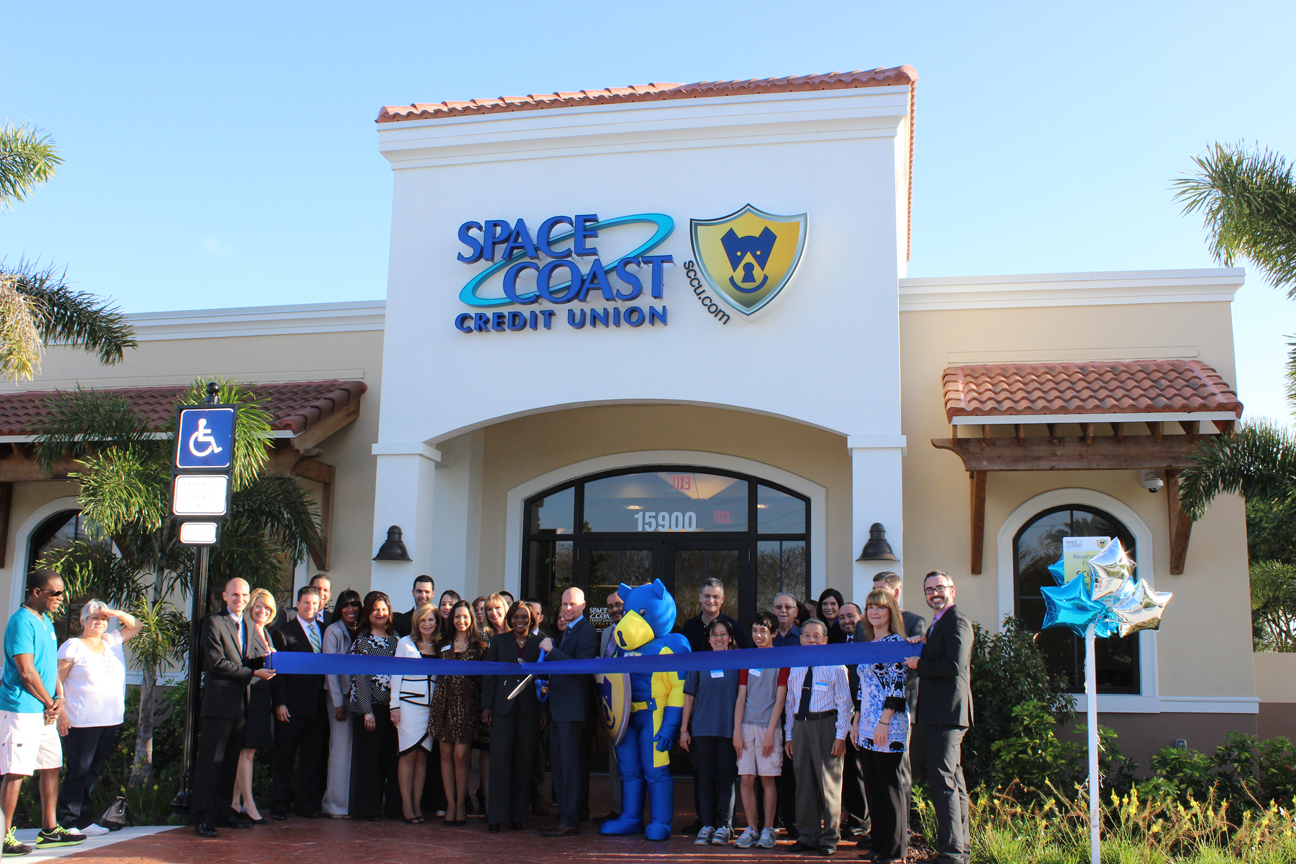 SCCU celebrates New West Miramar branch location
MELBOURNE, FL (April 8, 2015) — Space Coast Credit Union (SCCU) celebrated the grand opening of its new West Miramar branch, located at 15900 Miramar Pkwy, Miramar, FL 33027. Long-time members from near and far came to celebrate the new branch opening with the SCCU staff from the former Miramar Branch.
Grand opening festivities for the new branch location were held March 9-13, including a ribbon cutting on Wednesday, March 11th.   In addition, special incentives for new members opening a checking account or auto loan with SCCU are available through the month of April to encourage local residents to visit the new branch.
The new, more convenient location features a full-service lobby that now includes safe deposit boxes.  Members can take advantage of a full portfolio of financial services in the lobby, Monday through Thursday 9am to 4pm and Friday 9am to 6pm.  Members also have the option to enjoy the speed and convenience of the drive-thru Monday through Thursday 7:30am to 5pm, Friday 7:30am to 6pm, and Saturday 9am to 1pm.
"We have been assisting our loyal members of West Miramar for over 17 years, and now we are pleased to offer them a more convenient location with additional services such as safe deposit boxes." says Chris Matthews, Vice President of Retail Services.  "As the Members' Watchdog, we are always seeking ways to save our members' time and money.Since opening the branch we have established over 300 new memberships."
As part of their continued efforts to be even more convenient for its members, SCCU is continually evaluating their branch network and plans for 2015 include more relocations and new branch openings.  SCCU also offers members instant 24-7 access to accounts through its ATMs and shared service locations, Online Banking, and Mobile Banking.
SCCU's commitment to convenience and speed of service is clearly illustrated through their Express Sales model, which enables new and existing members to open an account or apply for a home or auto loan right over the phone from anywhere. The staff at SCCU, whether in the branch, online, or over the phone, uses the insights gained from each experience and transaction to protect and guide SCCU members in all aspects of their financial lives.
Space Coast Credit Union was chartered in 1951 and is headquartered in Melbourne, Florida. The credit union serves more than 290,000 members with assets of over $3 billion through a network of 58 branches and over 100 ATMs located throughout Florida and through its website sccu.com. Space Coast Credit Union is open for membership to anyone who lives or works in the fourteen Florida counties it serves. Locations can be found at sccu.com/locations.
---