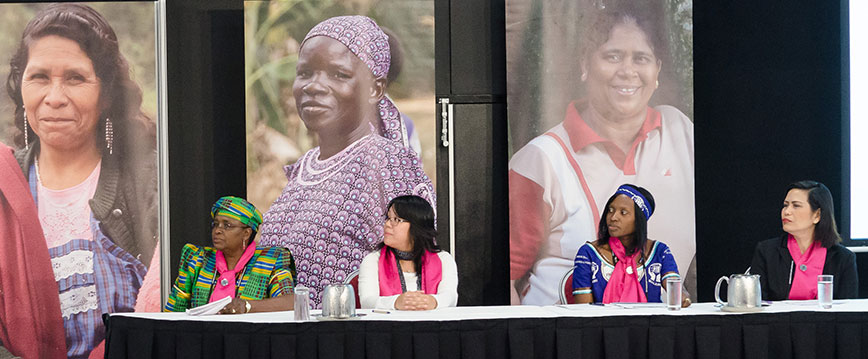 Scholarship winners to leverage international network and improve financial access for women
MADISON, WI (October 10, 2014) — The Global Women's Leadership Network is pleased to announce Elenita San Roque, CEO of the Association of Asian Confederation of Credit Unions(Thailand), and Kristi Lozano, Financial Education Specialist at San Mateo Credit Union (USA), as winners of the 2014 Network Empowerment Grant that will be used to improve the financial status of women in their communities. In addition to a financial award, winners will receive technical support, expertise and guidance from their Network peers worldwide.
Earlier this year, San Roque and Lozano participated with four other women in the Network's scholarship program, where they attended the annual Forum at the 2014 World Credit Union Conference and presented their proposals to Network members. Each scholar designed a concept that would increase access to credit, loans, savings and leadership opportunities for women in their communities. Network members voted on the proposals, and World Council staff evaluated the potential projects on several criteria related to the projects' strength, financial needs, opportunity for Network membership involvement and potential value to the community.
San Roque will work with Paglaum Multi-Purpose Cooperative in the Philippines to establish a business development center that will help advance women members' entrepreneurial and leadership skills, as well as access to markets and information for micro and small enterprise developments. Lozano's project aims to increase the financial and leadership skills of female high school credit union members, and assist in their preparation to enroll in a college or university.
"The Network Empowerment Grant will enable female students to learn and develop their financial readiness and interpersonal skills through a mentorship program," said Lozano. "I have met so many women through the Global Women's Leadership Network that have inspired me to challenge myself, and my career, that I am ecstatic about being able to extend this resource to the younger generation. This is the epitome of empowerment."
"We are excited about the influence these two projects will have in their communities to advance the financial future of women. With over 500 women in the Network, the project winners have an excellent opportunity to leverage their peers' expertise and engage globally, while making a local impact," said Calyn Ostrowski, director of the Worldwide Foundation and Global Women's Leadership Network.
Funding for scholarship winners and project activities are supported by membership dues and the generous support of CUNA Mutual Group, The Members Group and the Susan Adams Scholarship Fund, which was established by Arizona State Credit Union and PSCU in honor of former Entrust Financial Credit Union CEO Susan Adams.
World Council of Credit Unions is the global trade association and development agency for credit unions. World Council promotes the sustainable development of credit unions and other financial cooperatives around the world to empower people through access to high quality and affordable financial services. World Council advocates on behalf of the global credit union system before international organizations and works with national governments to improve legislation and regulation. Its technical assistance programs introduce new tools and technologies to strengthen credit unions' financial performance and increase their outreach.
World Council has implemented more than 290 technical assistance programs in 71 countries.Worldwide, 57,000 credit unions in 103 countries serve 208 million people. Learn more about World Council's impact around the world at www.woccu.org.
---