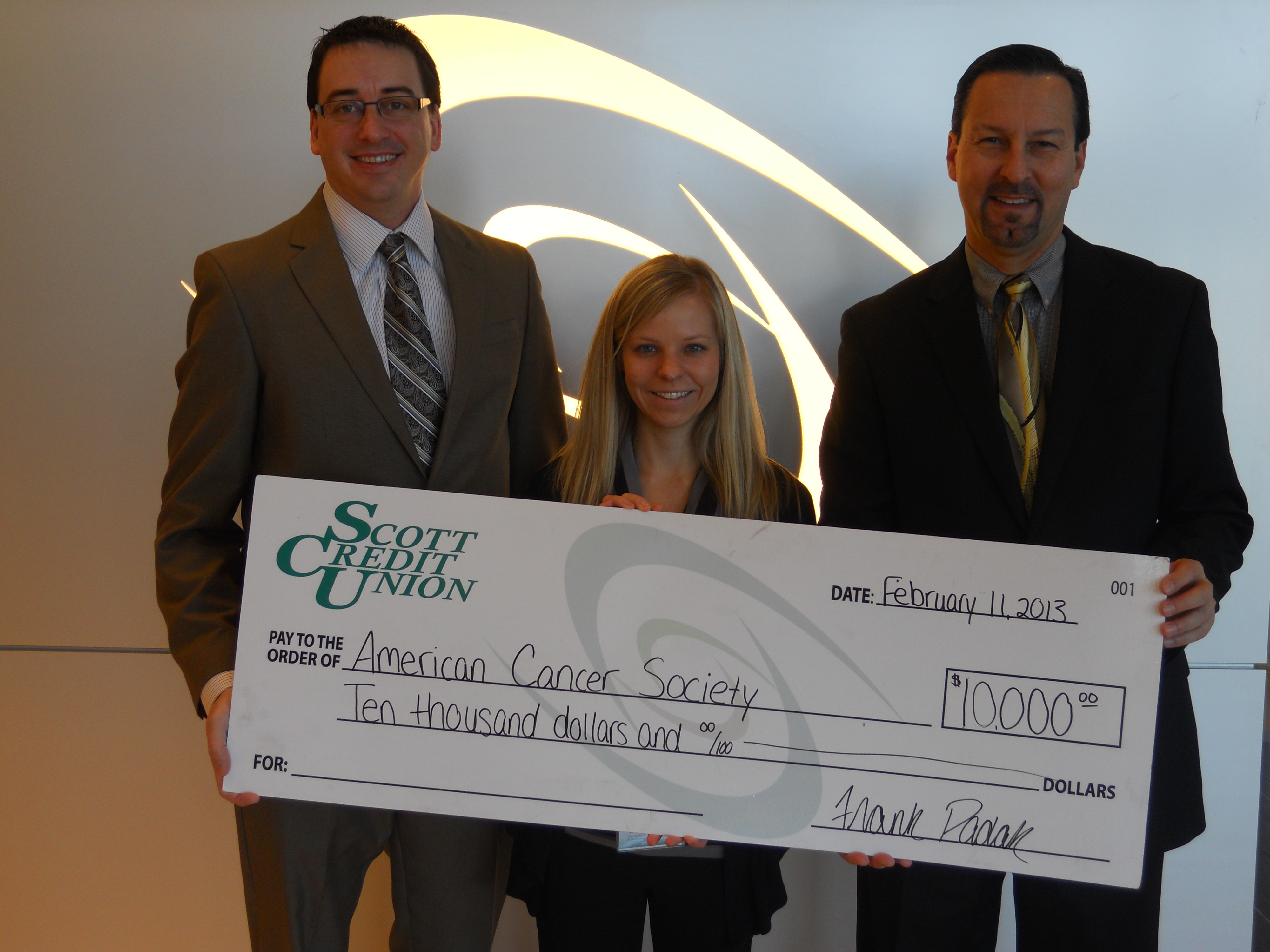 Scott Credit Union Becomes An American Cancer Society Regional Sponsor
March 28, 2013 – Scott Credit Union recently announced that it will become a regional sponsor of the American Cancer Society in 2013.
The local credit union was a regional sponsor of the American Cancer Society's Relay For Life events for six consecutive years.  The new regional partnership makes Scott Credit Union the sponsor of all of American Cancer Society's area events.
Representatives from Scott Credit Union presented a $10,000 donation to the American Cancer Society to support this year's events to be held throughout Madison, Bond, Clinton, St. Clair, and Monroe Counties, according to Scott Credit Union Community Relations Supervisor Ashleigh Deatherage.
In addition to the Relay For Life events, Scott Credit Union also will sponsor American Cancer Society's Making Strides Against Breast Cancer Walks and the Annual Mardi Gras Ball, Deatherage noted.
"We are proud to be able to again help ACS with this year's events," she said. "The Relay for Life events really bring the fight against cancer into the local communities and give people a chance to support the effort. We had such a great experience with our volunteers being at the events last year, we felt very strongly about continuing our sponsorship."
Scott Credit Union will be recognized during opening ceremonies and will host bank nights for some of the Relays for Life. During the bank nights, team captains come into the Scott Credit Union branches to cash in currency and have checks made payable to the American Cancer Society.
This year's Relay for Life events will be held beginning in April at Southern Illinois University Edwardsville. There also will be events held in Freeburg, Edwardsville/Glen Carbon, Collinsville, Troy, O'Fallon, Greenville for Bond County, in Wood River for the Riverbend area, Dupo/Cahokia, Highland, East St. Louis, Belleville, Breese for Clinton County, Waterloo for Monroe County, and in Jerseyville for Jersey County.
"This is a great way for us to continue to really give back to people from throughout the area by supporting them in their efforts to prevent cancer and save lives," Deatherage added. "We truly believe it is important for us to support the communities in which we serve our members."
Scott Credit Union has made giving back to its communities a major priority. The local credit union contributed more than $275,000 and its employees volunteered more than 2,300 hours to a variety of local civic efforts throughout the region in 2012.
"We realize that without our members and the communities in which we serve, we would not exist as a financial alternative," Deatherage said. "That is why it is so important for us to give back and support the communities in which we have locations."
The credit union has increased its community involvement in the past few years while also increasing its efforts to educate consumers of the value of doing their financial business with a not-for-profit credit union.
"Conducting financial business with a credit union saves the consumer real money," said Scott Credit Union President & CEO Frank Padak. "Many credit unions, like Scott Credit Union, offer similar products and services to what the conventional financial institutions have, but we do so with our members' best interest in mind. Plus, we really care about the community and we are committed to supporting local efforts through contributions and volunteerism."
Scott Credit Union is a not-for-profit financial cooperative that is member owned. The recently gave about $1.2 million back to members through a bonus dividend and loan interest rebate.
Scott Credit Union is open to anyone who lives or works in a 17 county area, including Madison, St. Clair, Monroe, Randolph, Perry, Franklin, Jefferson, Washington, Clinton, Marion, Bond, Macoupin, Montgomery, Fayette, Effingham, Williamson, and Jackson counties. Anyone who lives or works in St. Louis County, Missouri also can open accounts at SCU. Additionally, anyone active or retired military also can have accounts with Scott Credit Union.
Scott Credit Union currently has 15 area locations: Scott Air Force Base, East Belleville, Fairview Heights, Collinsville, O'Fallon, Edwardsville, Waterloo, Highland, Caseyville, West Belleville, Millstadt, Mascoutah, Troy, Wood River and its Home Office in Edwardsville.
For details on opening accounts at Scott Credit Union, visit www.scu.org.
The American Cancer Society's mission of preventing cancer, saving lives, and diminishing suffering is funded by individual donations and the donations made by corporations, foundations, and organizations. In Illinois, the Society has more than 120,000 volunteers fighting cancer. Many of the volunteers are cancer survivors, people who know first-hand what cancer is all about.
Anyone can get the most up-to-date cancer related information or join the fight against cancer, by calling 1-800-ACS-2345 or visiting www.cancer.org
The American Cancer Society Relay For Life is about communities taking up the fight against cancer. The effort includes everyday people, young and old, joining together to offer hope and life-saving contributions that help make possible cancer research, education and early detection programs, advocacy and local services for cancer patients and their families.
Regional American Cancer Society Relay For Life sponsorships, such as that provided by Scott Credit Union help the Society make a difference in communities throughout the region, not only in the area of education, but also because it supports the research, advocacy and patient services of the Society.
---