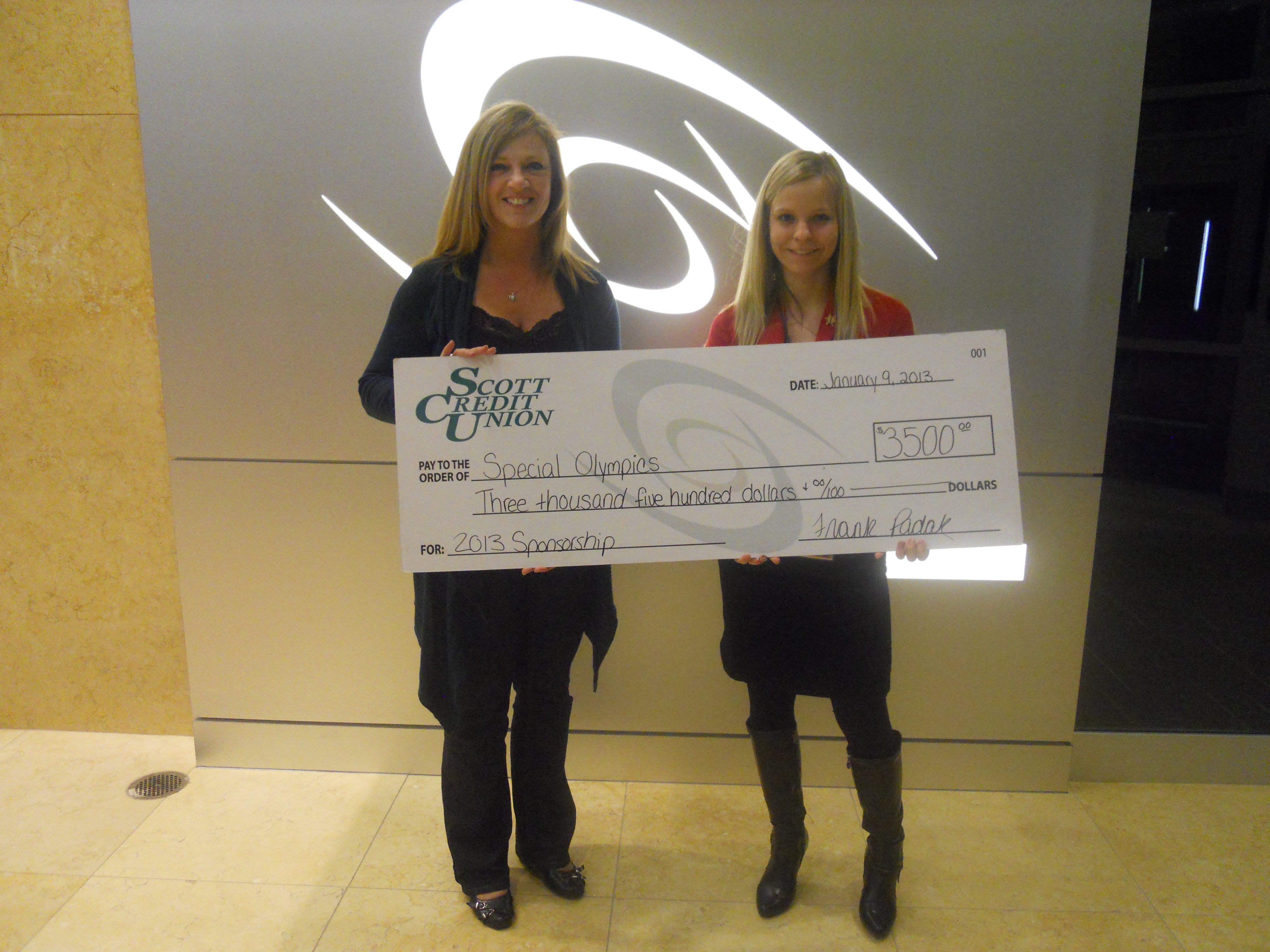 Scott Credit Union Continues As Special Olympics Sponsor
Collinsville, Illinois – Scott Credit Union recently presented a $3,500 check to representatives from Special Olympics Illinois to sponsor the Law Enforcement Torch Run Polar Plunge, the Special Olympics Illinois Southwestern Area Spring Games and the Cool School Challenge.
Scott Credit Union Community Relations Supervisor Ashleigh Deatherage presented the $3,500 check to Special Olympics Area 12 Director Peggy Knebel.
The Law Enforcement Torch Run Polar Plunge will be held Feb. 23 at Carlyle Lake and the Special Olympics Illinois Southwestern Area Spring Games will be held April 27 at Korte Stadium at Southern Illinois University Edwardsville.
Special Olympics Illinois' mission is to provide year-round sports training and athletic competition in a variety of Olympic-type sports for children and adults with intellectual disabilities, giving them continuing opportunities to develop fitness, demonstrate courage, experience joy and participate in a sharing of gifts, skills and friendship with their families, other athletes and the community.
"This is another opportunity for us to support our community and the people who live here," Deatherage said. "It is our way of showing our support to the Special Olympics and the great programs that they provide."
The Special Olympics holds 175 sanctioned competition events and has more than 22,395 athletes in competition annually throughout the state.
"Credit unions are committed to helping people and supporting the Special Olympics allows us to do that," Deatherage added. "It is a good feeling to support the programs that are provided to the Special Olympians. We are proud to play a small role in allowing the athletes to compete."
Scott Credit Union has made giving back to its communities a major priority. The local credit union contributed about $275,000 and its employees volunteered over 2,300 hours to a variety of local civic efforts throughout the region in 2012.
"We realize that without our members and the communities in which we serve, we would not exist as a financial alternative," Deatherage noted. "Supporting our communities is very important to us."
The credit union has increased its community involvement in the past few years while also increasing its efforts to educate consumers of the value of doing their financial business with a not-for-profit credit union.
"We want people in the area to know more about the value of doing business with a credit union," she added. "That is why we have focused our time on educating area residents about Scott Credit Union. One of the big ways we've done that is through our community involvement."
"In times like these, people are really looking for ways to reduce expenses and save money," Deatherage noted. "We are a great alternative that helps them to do that."
Scott Credit Union is a not-for-profit financial cooperative that is member owned. The credit union is member owned and recently gave about $1.2 million back to members through a bonus dividend and loan interest rebate.
Scott Credit Union is open to anyone who lives or works in a 17 county area, including Madison, St. Clair, Monroe, Randolph, Perry, Franklin, Jefferson, Washington, Clinton, Marion, Bond, Macoupin, Montgomery, Fayette, Effingham, Williamson, and Jackson counties. Anyone who lives or works in St. Louis County, Missouri also can open accounts at SCU. Additionally, anyone active or retired military also can have accounts with Scott Credit Union.
Scott Credit Union currently has 15 area locations: Scott Air Force Base, East Belleville, Fairview Heights, Collinsville, O'Fallon, Edwardsville, Waterloo, Highland, Caseyville, West Belleville, Millstadt, Mascoutah, Troy, East Alton and its Home Office in Edwardsville.
For details on opening accounts at Scott Credit Union, visit www.scu.org, call 1-800-888-4728, or stop by any of the credit union's branches
---