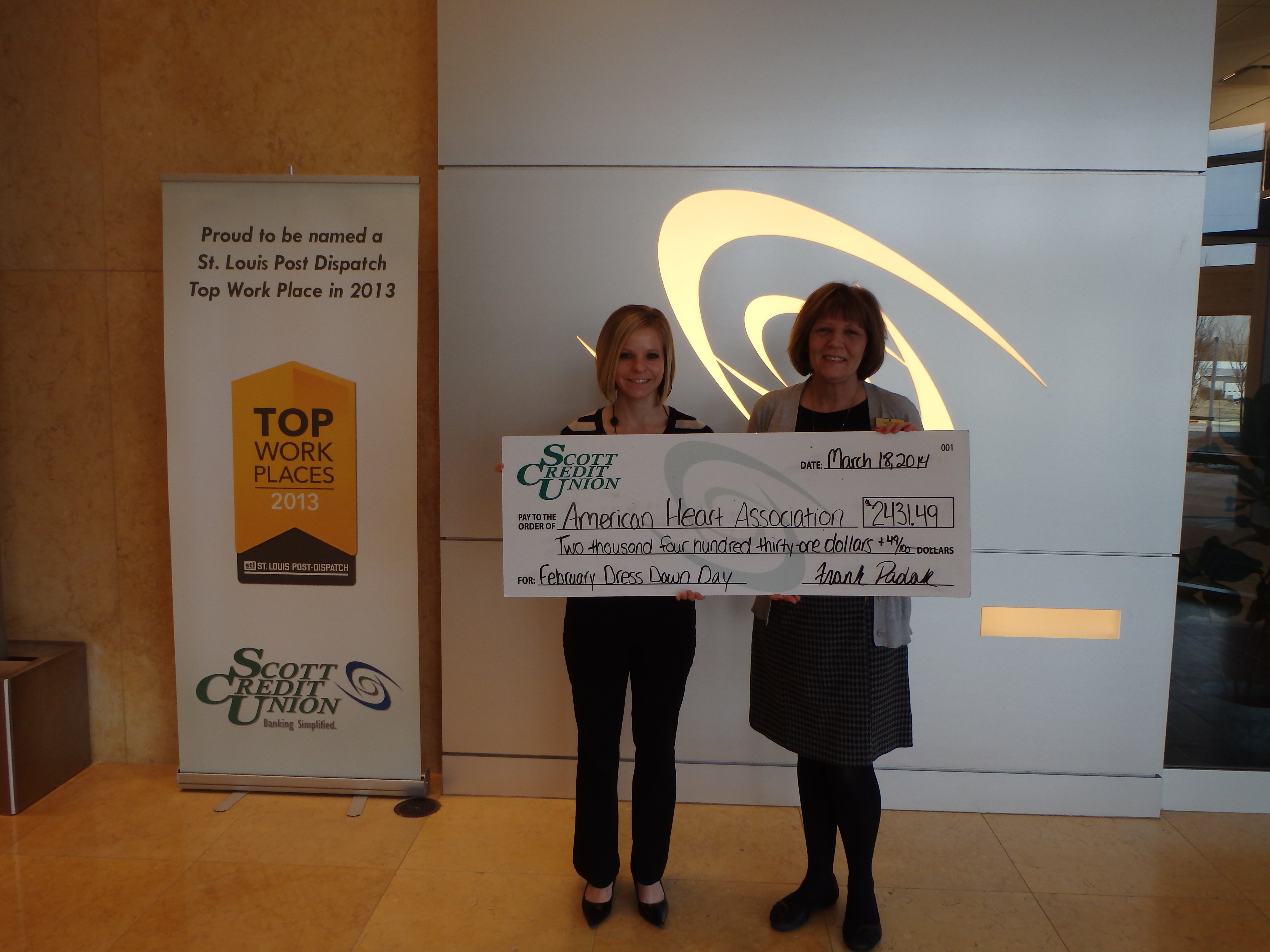 Scott Credit Union raises over $2,400 during Heart Health Awareness campaign
COLLINSVILLE, IL (March 28, 2014) — Scott Credit Union recently raised over $2,400 during a February campaign to raise awareness of heart health.
The credit union and its employees participated in several activities in conjunction with the American Heart Association's awareness campaign. SCU raised money by selling heart cutouts and red dress lapel pins at each of its branches.
During the campaign, Scott Credit Union employees made a donation in order to dress down on Valentine's Day at the credit union. About 140 of SCU's employees wore red "Get Fired Up" tshirts to increase awareness of heart health.
Scott Credit Union's donation was specifically earmarked for the American Heart Association's Jump Rope for Heart and Hoops for Heart programs.
Jump Rope For Heart and Hoops For Heart are educational fund development programs that are co-sponsored by American Alliance for Health, Physical Education, Recreation and Dance and the American Heart Association. These programs promote physical education and provide children with knowledge of heart disease and stroke while raising funds for cardiovascular disease research, stroke research and health education.
Locally, Scott Credit Union Community Relations Supervisor Ashleigh Deatherage presented the $2,431 check to Renee Ades, Director of Southern Illinois Region of American Heart Association.
"We were excited about the opportunity to help the American Heart Association in their local efforts to increase awareness," said Deatherage. "Our staff and our members were eager to be involved by donating money to the fund raiser and for the dress down day. It is our way of showing our support of the work the local American Heart Association does in our region."
"Credit unions are really about helping people and this is a perfect way for us to take that even a step further," she added.
Scott Credit Union has made giving back to its communities a major priority. The local credit union contributed about $325,000 and its employees volunteered over 2,400 hours to a variety of local civic efforts throughout the region in 2013.
"We realize that without our members and the communities in which we serve, we would not exist as a financial alternative," Deatherage noted. "Supporting our communities is very important to us."
The credit union has increased its community involvement in the past few years while also increasing its efforts to educate consumers of the value of doing their financial business with a not-for-profit credit union.
"We want people in the area to know more about the value of doing business with a credit union," she added. "That is why we have focused our time on educating area residents about Scott Credit Union. One of the big ways we've done that is through our community involvement."
Scott Credit Union is open to anyone who lives or works in a 17 county area, including Madison, St. Clair, Monroe, Randolph, Perry, Franklin, Jefferson, Washington, Clinton, Marion, Bond, Macoupin, Montgomery, Fayette, Effingham, Williamson, and Jackson counties. Anyone who lives or works in St. Louis County, Missouri also can open accounts at SCU. Additionally, anyone active or retired military also can have accounts with Scott Credit Union.
Scott Credit Union currently has 15 area locations: Scott Air Force Base, East Belleville, Fairview Heights, Collinsville, O'Fallon, Edwardsville, Waterloo, Highland, Caseyville, West Belleville, Millstadt, Mascoutah, Troy, Wood River and its Home Office in Edwardsville.
For details on opening accounts at Scott Credit Union, visit www.scu.org.
---