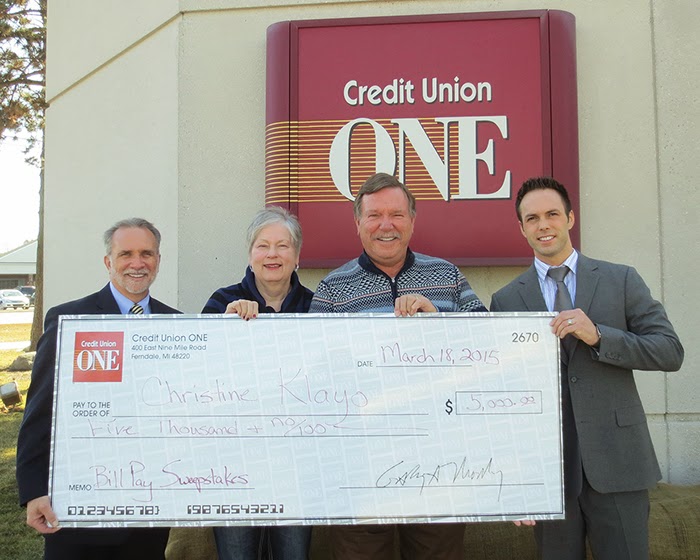 "Seasons of Reasons" sweepstakes winner is Credit Union ONE member
FERNDALE, MI (March 31, 2015) — Credit Union ONE announced that one of their members has been awarded the grand prize in the "Seasons of Reasons" bill pay sweepstakes.
Credit Union ONE members who use bill pay had the opportunity to enter to win $5,000 just for using bill pay.  The sweepstakes, which ran from November 3, 2014 – January 31, 2015, encouraged members to enroll in Online Bill Pay and automatically be entered to win one of three amazing prizes. The contest was open to all members of nine participating credit unions who were checking account holders in good standing, who were at least 18 years old by November 3 2014 and were legal U.S. residents.
Credit Union ONE member Christine Klayo and spouse Carl were very happy to find out that Christine was the $5,000 grand prize winner of the contest. "We have been members since 1986, and we appreciate the convenience of Bill Pay;  it's fast, easy, and only takes a few seconds to pay the bills," said Klayo.
During the sweepstakes, Credit Union ONE added 1,315 new online bill pay users.
"With Online Bill Pay we're giving our members an opportunity to switch to online payments which makes bill management a simple process," said Kristopher Brosnihan, Credit Union ONE Senior Digital Services Analyst. "This sweepstakes was a great opportunity for us to reward our loyal members for their commitment to Credit Union ONE."
Members interested in learning more about Credit Union ONE's Online Bill Pay can do so by visiting cuone.org/billpay.
Credit Union ONE, headquartered in Ferndale Michigan for over seventy-five years, offers a wide array of financial services and access to over 30,000 ATM's nationwide, serving 120,000 members, with eighteen offices in three major metropolitan areas, including Metro Detroit, Grand Rapids and Traverse City. For more information go to cuone.org or "like us" on Facebook.
---