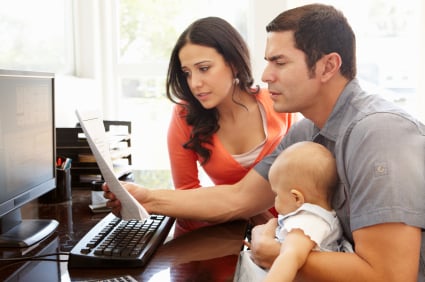 Secret Costs of Motherhood Total $230,000: A GoBankingRates Mother's Day 2013 Investigation Finds How Working Moms Can 'Lean In' and Combat Lost Wages
Mother's Day 2013 and the popularity of Sheryl Sandberg's book Lean In prompts finance site www.GoBankingRates.com to investigate how motherhood negatively impacts the earning potential and lifetime wages of working moms, and what they can do to combat the trend.
EL SEGUNDO, CA (May 10, 2013) This Sunday marks Mother's Day 2013, prompting a new report from GoBankingRates.com that finds motherhood may be costing American women more than they think. GoBankingRates investigated how mothers can combat lost earnings and savings through the advice found in recent bestseller Lean In: Women, Work and the Will to Lead by Sheryl Sandberg.
"The recent controversy surrounding Sheryl Sandberg's book has highlighted both the practical and financial difficulties that working mothers face," says Elyssa Kirkham, editor for GoBankingRates.com. "I wanted to hear from real women how motherhood impacted them financially, and how Lean In can help working moms level the playing field," she explained.
The total cost of raising a single child today is approximately $220,000 – $260,000 for married couples with two children, according to estimations made by the USDA. But while most parents expect to spend much of their income on raising their children, few consider the losses they'll face in earning potential, wages and future savings.
"As an expecting first-time mom, I've realized that motherhood will cost more than just the initial investment in diapers, bottles, or a crib," Ms. Kirkham says. "Many mothers don't receive paid maternity leave, so they experience a loss of income in the short-term. But often, the demands of motherhood also limit future earning potential."
This loss of income is particularly damaging for educated and highly skilled women, found a study from the National Bureau of Economic Research. These women are estimated to lose out on $230,000 in lifetime wages as a result of having a child, losing as much in income as most families spend on raising a single child.
For fathers, however, the study found that in nearly all cases, parenthood did not significantly impact men's earning potential or wages.
"When it comes to the workplace, there is a definite double standard when it comes to mothers and fathers," Ms. Kirkham points out. "While a father's devotion to his kids and family life is seen as admirable, the same traits in a woman can often be perceived as a lack of commitment or inability to handle more responsibility."
GoBankingRates spoke with working mothers and took a look at the advice offered by Sheryl Sandberg in Lean In to see how mothers can curb this trend. The report includes suggestions and advice to help working mothers elevate their earning potential and keep money flowing to their savings accounts.
See the full report on the effect of motherhood on earnings and savings.
For questions about this report or to speak with Elyssa Kirkham, please use the contact information below.
About GoBankingRates
GoBankingRates.com is a national website dedicated to connecting readers with the best interest rates on financial services nationwide, as well as informative personal finance content, news and tools. GoBankingRates collects interest rate information from more than 4,000 U.S. banks and credit unions, making it the only online rates aggregator with the ability to provide the most comprehensive and authentic local interest rate information.
---