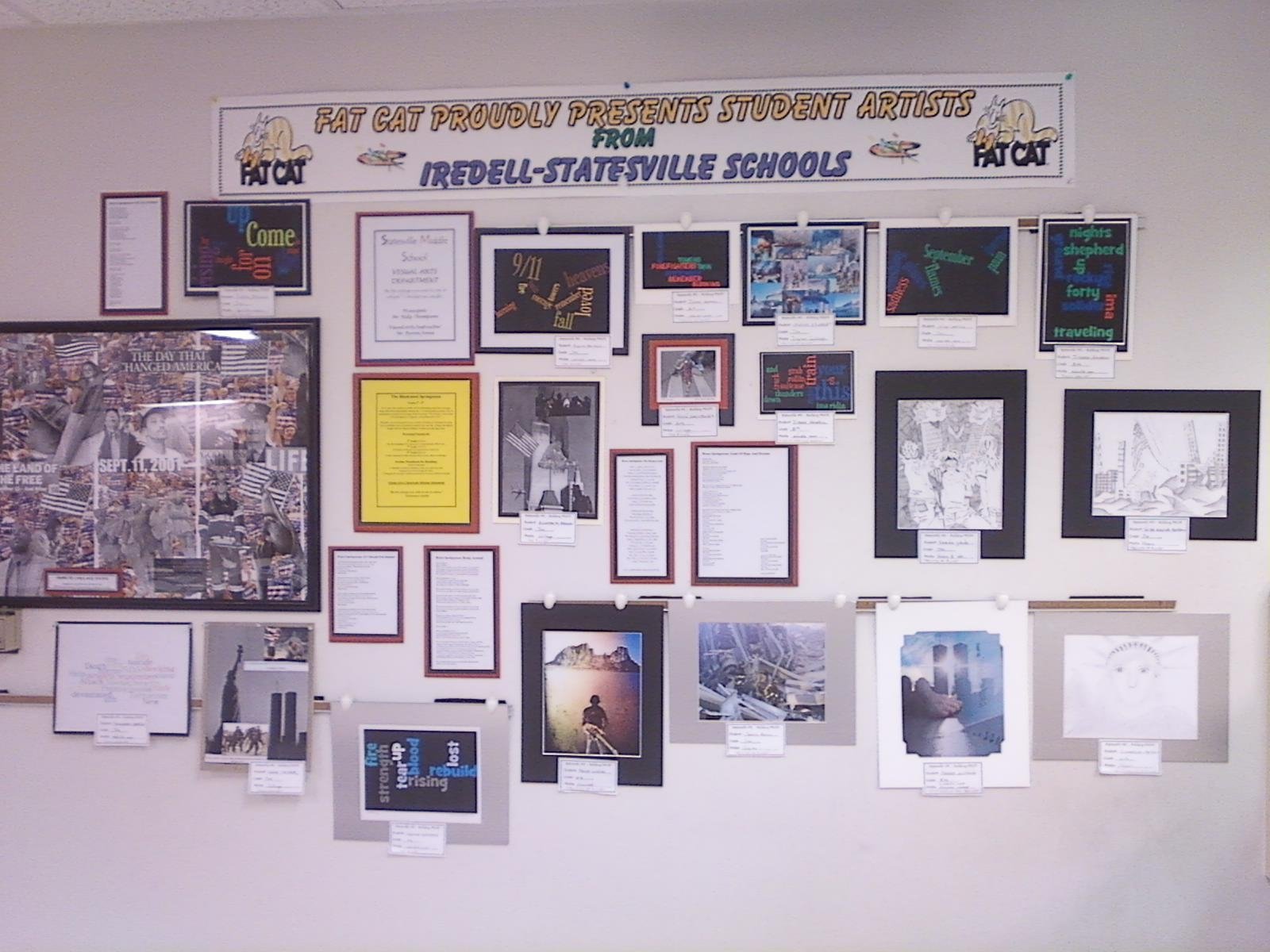 SECU Branch Featured Inspiring Student Art Illustrations During SECU Supports the Troops Campaign
Raleigh, NC – During this year's kickoff of its 3rd annual State Employees' Credit Union (SECU) Supports the Troops campaign, the Credit Union's Statesville branch featured a unique display of student artwork from Statesville Middle School.  Using a variety of mixed media, the 6th-8th grade Visual Art students created pieces of art inspired by the lyrics and songs of Bruce Springsteen's album, The Rising.  The twenty-four piece art collection titled "The Illustrated Springsteen" included a selection of poems, pictures and word collages illustrating Springsteen's music in response to the tragic aftermath of the September 11, 2001 events.  The imaginative and artistic talents of the youth made a memorable display that was featured by the branch in conjunction with this year's SECU Supports the Troops campaign collection period, which ran from September 15th to October 31st.
SECU branches statewide continue to display artwork from local schools as part of an ongoing project established by the Credit Union in 2003 to provide art teachers an avenue to feature their schools' programs and student artists.  Originally launched to display elementary school artwork, the project was so well received that it was expanded to include artwork from middle and high schools.  Enjoyed by Credit Union members, employees, students and their families, the featured art pieces give recognition to individual schools, students, and the art teachers who inspire and challenge their students.  In some branch locations, SECU personnel have even held art receptions for students and parents, presenting students with certificates of achievement for their participation and creative abilities.
Andy High, Senior Vice President of SECU's Statesville branch comments, "We always enjoy displaying the various artworks from our local schools and students.  'The Illustrated Springsteen' collection really captured the attention of our members and employees and was both creative and inspiring!  The display was a great addition and truly complemented our efforts to support North Carolina's deployed solders during our SECU Supports the Troops campaign."
About SECU
SECU is a not-for-profit financial cooperative owned by its members.  SECU has been providing the employees of the State of North Carolina and their families with consumer financial services for 75 years.  With close to 1.8 million members, SECU provides services through 245 branch offices, nearly 1,200 ATMs, 24/7 Contact Centers and a website, www.ncsecu.org.
---