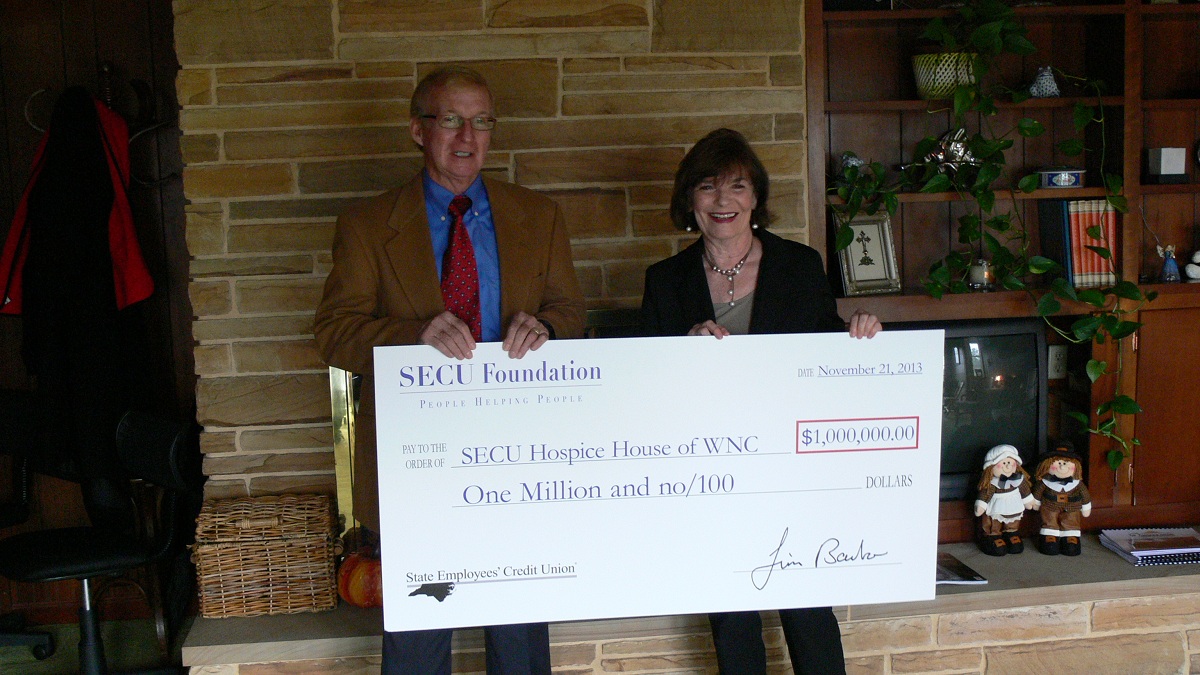 SECU Foundation presents $1 million check for SECU Hospice House of Western North Carolina
RALEIGH, NC (November 25, 2013) — In Franklin, North Carolina, community leaders and supporters, including SECU Foundation representatives and Credit Union volunteers and staff gathered for a formal presentation of SECU Foundation's $1 million grant for SECU Family House of Western North Carolina (WNC).  The on-site presentation ceremony marks a momentous occasion – helping bring the first inpatient hospice facility to the healthcare community and citizens of the six-county area of Macon, Swain, Graham, Clay, Cherokee and Jackson Counties.  The SECU Foundation announced its commitment of a $1 million challenge grant in August to assist the Hospice House Foundation of Western North Carolina's Capital Campaign efforts.  SECU Foundation Board Chair Jim Barber presented the check to the Hospice House Foundation on behalf of State Employees' Credit Union (SECU) members who fund the Foundation.
Michelle Alderson, Chairperson of the Hospice House Foundation of WNC was on hand for the acceptance.  She commented, "We are very grateful for the generosity of SECU members through their Foundation.  This grant will help bring a much needed Hospice House to the residents of our six area counties as well as the Qualla Boundary – Cherokee Reservation."
"SECU Hospice House of WNC is the twelfth SECU Foundation supported hospice project in North Carolina.  SECU members continue to embrace these statewide initiatives, recognizing the great need for inpatient hospice services throughout North Carolina.  As steadfast partners, SECU Foundation and the Hospice House Foundation of WNC are helping provide the highest level of care, compassion and support for patients and their families needing end of life or respite care services," added Jim Barber.
About SECU and the SECU Foundation
A not-for-profit financial cooperative owned by its members, SECU has been providing employees of the State of North Carolina and their families with consumer financial services for over 76 years.  With more than 1.8 million members, SECU provides services through 252 branch offices, 1,100 ATMs, 24/7 Contact Centers and a website, http://www.ncsecu.org/.  The SECU Foundation, a 501c (3) charitable organization funded solely by the contributions of SECU members, promotes local community development in North Carolina primarily through high impact projects in the areas of housing, education, healthcare and human services.
---