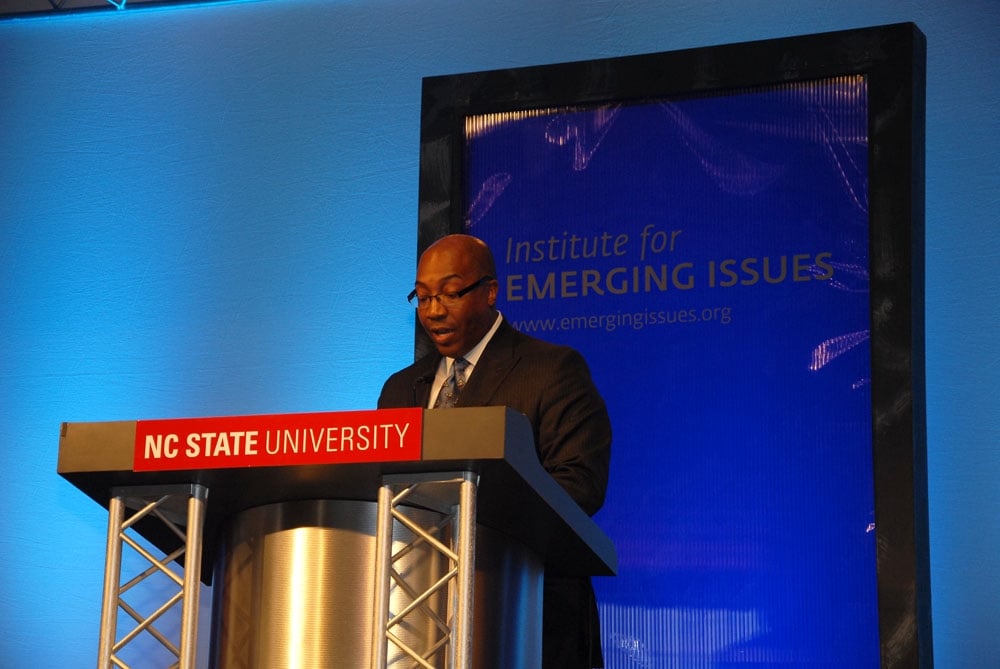 SECU Foundation Provides the First of Four Planned $200,000 Annual Grants for Innovation.
Raleigh, NC – In keeping with its strong focus on promoting education and community development, SECU Foundation has provided this year, the first of four planned $200,000 annual grants in support of the newly named State Employees' Credit Union Emerging Issues Prize for Innovation through the Institute for Emerging Issues (IEI) at NC State University.  The 2014 Prize for Innovation competition will engage college level students to collaborate and respond to challenges facing their communities and State, specifically in the areas of education, health, natural and built environments, and the economy.  SECU Foundation's gift will allow IEI to expand on its Prize for Innovation competition, offering $50,000 in prizes to winning college teams in each issue area.  McKinley Wooten, State Employees' Credit Union (SECU) Board of Directors Chairman, presented the grant at the February 12th Emerging Issues Forum on behalf of SECU members, who fund the Foundation.
IEI developed the Emerging Issues Prize for Innovation in 2010.  The Prize for Innovation engages and energizes North Carolina's young people about the role they can play in policy and economic development, and highlights the collaborative spirit, talent, and initiative it takes to put ideas into action.
"The Prize for Innovation has been one of the most effective and engaging programs we've managed at the Institute for Emerging Issues," said Anita Brown-Graham, Director of IEI.  "With the support of SECU Foundation, we'll now be able to engage even more young people.  This means more ideas, more innovation, and more opportunities for a new generation to lead the way to a brighter future for our State.  It's an exciting day for us, and we're thrilled about this partnership."
McKinley Wooten comments, "The SECU member-funded Foundation is pleased to provide this gift for the Emerging Issues Prize for Innovation competition.  In partnership with IEI, we look forward to challenging and empowering North Carolina's students to invest in the future of our State's citizens through innovative ideas and leadership."
About SECU and the SECU Foundation
A not-for-profit financial cooperative owned by its members, SECU has been providing employees of the State of North Carolina and their families with consumer financial services for 75 years.  With 1.8 million members, SECU provides services through 246 branch offices, 1,100 ATMs, 24/7 Contact Centers and a website, www.ncsecu.org.  The SECU Foundation, a 501c (3) charitable organization funded solely by the contributions of SECU members, promotes local community development in North Carolina primarily through high impact projects in the areas of housing, education, healthcare and human services.

About IEI
IEI is a think-and-do tank at NC State University, focused on tackling big issues that affect North Carolina's future growth and prosperity.  From energy, to fiscal modernization, to improving our systems of higher education, IEI takes the lead in convening state leaders in business, higher education, and government to address these issues early and prepare for future challenges and opportunities.  To learn more about IEI, please visit www.emergingissues.org.
---