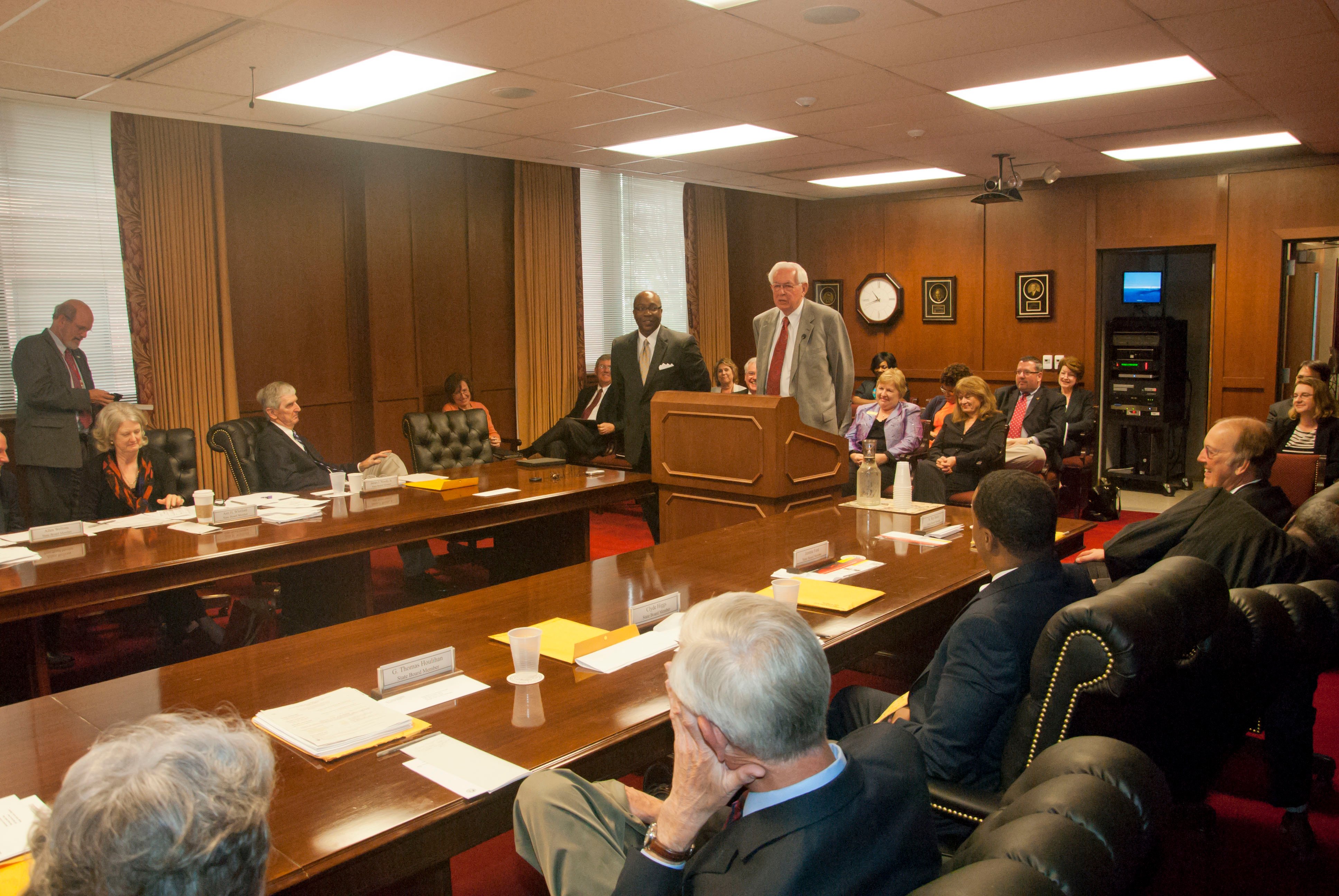 SECU Members Partner with NC Community College System to Provide SECU Continuing Education Scholarship
RALEIGH, NC – Through a collaborative effort with the NC Community College System, State Employees' Credit Union (SECU) members via the SECU Foundation are pleased to announce the addition of a new scholarship initiative, the SECU Continuing Education Scholarship program.  Designed to help meet the needs of North Carolina's unemployed and underemployed citizens, SECU Foundation's Board of Directors has approved funding for ten $750 Continuing Education Scholarships to be awarded to eligible students at each of the 58 NC Community College campuses, for an initial one-year commitment of $435,000.  This initiative will help provide students with short-term job training for new careers or retraining to advance current job skills through the Community College System's Back-to-Work Program and continuing education courses.  SECU Foundation Board members McKinley Wooten and Tom King made the announcement during a State Board of Community Colleges meeting held today in Raleigh, NC.
The SECU Continuing Education Scholarship program will focus on assisting unemployed and underemployed adults, military veterans, and members of the National Guard with marketable job skills for future employment, with the requirement that participants must be enrolled in a program that leads to a state-regulated or industry-recognized credential.  Administered locally by each Community College, implementation of the program is scheduled for July at campuses statewide.  This new program complements the Foundation's ongoing scholarship support for community colleges.
"For the first time, we are able to address the financial needs of continuing education students on a statewide level," says NC Community College System President, Dr. Scott Ralls.  "This partnership with State Employees' Credit Union will provide a hand up to hundreds of North Carolinians looking for a better quality of life."
Since 2004, SECU Foundation has provided two $5,000 scholarships to each of the 58 Community College campuses, with an annual commitment of $580,000.  This additional scholarship program brings the SECU Foundation's pledge to more than $1 million.
"We are very pleased to join efforts with the NC Community College System to provide the SECU Continuing Education Scholarship, helping North Carolina's unemployed and underemployed citizens with career training and marketable job skills needed for today's workplace," comments Mr. Wooten, who also currently serves as Chair of the SECU Board  of Directors.  "This program will ultimately help produce and sustain a high quality workforce for North Carolina's future, and continue to make a positive difference in the economic well-being of our State's citizens in communities across North Carolina."
About SECU and the SECU Foundation
A not-for-profit financial cooperative owned by its members, SECU has been providing employees of the State of North Carolina and their families with consumer financial services for 75 years.  With 1.8 million members, SECU provides services through 248 branch offices, 1,100 ATMs, 24/7 Contact Centers and a website, www.ncsecu.org.  The SECU Foundation, a 501c (3) charitable organization funded solely by the contributions of SECU members, promotes local community development in North Carolina primarily through high impact projects in the areas of housing, education, healthcare and human services.
About the NC Community College System
The North Carolina Community College System opens the door to high-quality, accessible educational opportunities that minimize barriers to post-secondary education, maximize student success, develop a globally and multi-culturally competent workforce, and improve the lives and well-being of individuals.  Learn more at www.nccommunitycolleges.edu.
---