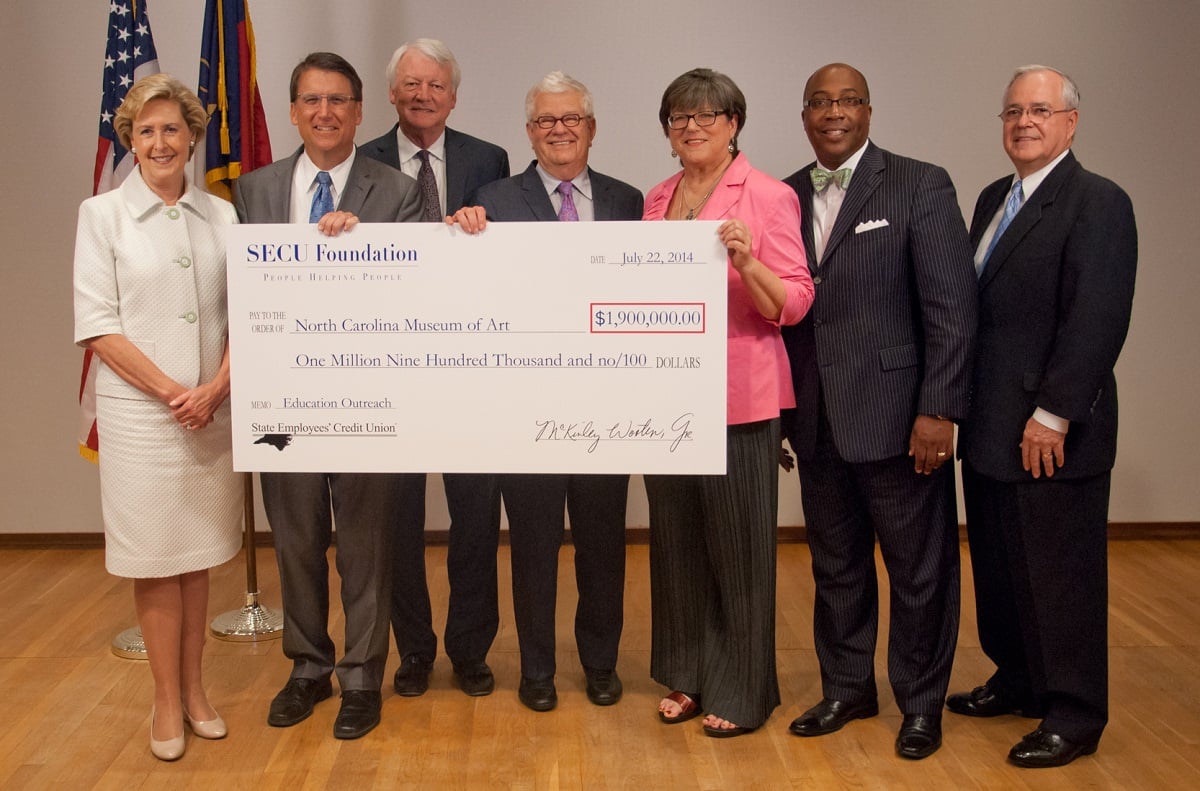 SECU members provide $1.9 million to NC Museum of Art for State-of-the-Art Education Center
RALEIGH, NC (July 22, 2014) — In an official announcement made today at the North Carolina Museum of Art (NCMA), State Employees' Credit Union (SECU) members via the SECU Foundation presented a $1.9 million grant for art education outreach.  The presentation was made by SECU Foundation Board Chair McKinley Wooten to NCMA Director Lawrence J. Wheeler, Governor Pat McCrory and Department of Cultural Resources Secretary Susan Kluttz.  The grant will establish a vibrant, highly technical Education Center that will become the portal for accessing the Museum's world class collections of art, special exhibitions, and educational programs both on-site and virtually throughout North Carolina.  Construction is expected to begin in the Spring of 2015 for a state-of-the-art auditorium, adjacent studio classrooms, and distance learning center, all equipped with the latest technology to share the Museum's programs and resources statewide and beyond.
"We are immensely grateful for the SECU Foundation support and for SECU members' transformative investment in the NCMA's educational outreach programs," says Mr. Wheeler.  "This grant will ensure that students across North Carolina have the opportunity to participate in our award-winning education programs and to experience our outstanding collection."
Mr. Wooten states, "SECU members are ardent and long-time supporters of the arts in education and we are happy to assist in the outreach of the Museum's incredible local art programs.  With the Foundation's funding for an SECU Auditorium, SECU Distance Learning Center and Mobile Learning Cart, as well as an SECU Courtyard outdoor classroom, even more of our State's students will have access to the many resources provided through the North Carolina Museum of Art and will help the Museum expand upon the valuable services already offered."
"NCMA educational programs have made a remarkable footprint across the State, but there is so much more we could do to maximize and expand our offerings," adds Sandra Cage, NCMA's Director of Education.  "This grant will allow us to broaden our reach and continue developing innovative programs for even more teachers and students."
About SECU and the SECU Foundation
A not-for-profit financial cooperative owned by its members, SECU has been providing employees of the State of North Carolina and their families with consumer financial services for 77 years.  With 1.9 million members, SECU provides services through 254 branch offices, 1,100 ATMs, 24/7 Contact Centers and a website, www.ncsecu.org.  The SECU Foundation, a 501c (3) charitable organization funded solely by the contributions of SECU members, promotes local community development in North Carolina primarily through high impact projects in the areas of housing, education, healthcare and human services.
About the North Carolina Museum of Art
The North Carolina Museum of Art's permanent collection spans more than 5,000 years, from ancient Egypt to the present, making the institution one of the premier art museums in the South.  The Museum's collection provides educational, aesthetic, intellectual, and cultural experiences for the citizens of North Carolina and beyond.  The 164-acre Museum Park showcases the connection between art and nature through site-specific works of environmental art.  The Museum offers changing national touring exhibitions, classes, lectures, family activities, films, and concerts.
The Museum opened West Building, home to the permanent collection, in 2010.  The North Carolina Museum of Art, Lawrence J. Wheeler, director, is located at 2110 Blue Ridge Road in Raleigh.  It is the art museum of the State of North Carolina, Pat McCrory, governor, and an agency of the Department of Cultural Resources, Susan Kluttz, secretary
Caption for the photo:  Pictured L to R: Susan Kluttz-Secretary of the Department of Cultural Resources; Pat McCrory-Governor; David King-Board of Directors, SECU Foundation; Lawrence J. Wheeler-Director, North Carolina Museum of Art; Jo Anne Sanford-Board of Directors, SECU Foundation; McKinley Wooten-Board Chair, SECU Foundation; Mark Twisdale-Executive Director, SECU Foundation.
---