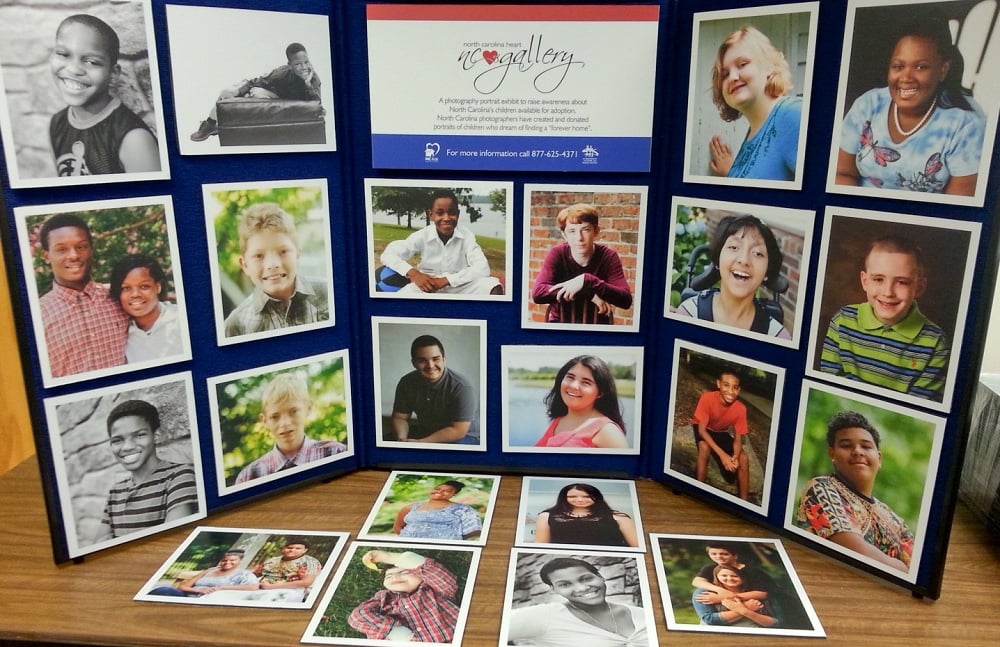 SECU partners to spotlight foster care and adoption in North Carolina
RALEIGH, NC (January 20, 2015) — Through a project known as the NC Heart Gallery, State Employees' Credit Union (SECU) members will soon see a few new faces in their local branches – the beautiful smiles of some of North Carolina's foster children eligible for adoption.  SECU is proud to partner with the North Carolina Department of Health and Human Services – Division of Social Services (NCDHHS – DSS) to shine a spotlight on foster care and adoption with the hope of finding permanent homes for foster youth in our State.
Through a 7-month campaign that began the week of January 12th, branches in SECU districts are displaying exhibits featuring professional portraits of some of North Carolina's eligible foster youth on a rotational basis.  The NC Heart Gallery displays include biographies on each child, along with foster and adoptive parenting information.  SECU's participation and goal is to promote adoption of foster kids and encourage North Carolina citizens to become foster or adoptive parents, with the Credit Union advocating for children who deserve the love and stability of a forever family.
Judith Dorsey, SECU's Card Services Compliance Manager and a former Wake County foster parent, is thrilled by SECU's decision to promote the NC Heart Gallery initiative.  "As a foster and adoptive parent, I've had a front row seat at seeing some of the pain and suffering these children have endured, and it's heartbreaking.  This is an amazing project and I'm so proud that the organization I work for is taking part in raising awareness and helping to give these children who desperately need and want a family a greater chance at the life they deserve.
According to statistics provided by NCDHHS, North Carolina had 9,954 children in foster care at the end of November 2014, and approximately 500 age out of the system each year without a permanent family.  NCDHHS' affiliated NC Kids Adoption and Foster Care Network is actively recruiting adoptive homes for 168 foster care children in our State, including those featured in the NC Heart Gallery exhibit.
"We are excited to partner with State Employees' Credit Union on a project that will help open a dialogue in our local communities about foster care and adoption," said Jamie Bazemore, Adoption Program Manager with the North Carolina Department of Health and Human Services – Division of Social Services.  "SECU's participation will play an integral role in heightening awareness and providing foster youth with maximum exposure to potential adoptive parents."
Ms. Bazemore added, "The NC Heart Gallery project exemplifies the Credit Union's 'People Helping People' spirit and their commitment to improving the welfare of North Carolina's youngest citizens.  We are very grateful for their support."
About SECU
A not-for-profit financial cooperative owned by its members, SECU has been providing employees of the State of North Carolina and their families with consumer financial services for 77 years.  The Credit Union also offers a diversified line of financial advisory services including retirement and education planning, tax preparation, insurance, trusts, estate planning and investments through its partners and affiliated entities.  SECU serves nearly 2 million members through 254 branch offices, 1,100 ATMs, 24/7 Contact Centers and a website, www.ncsecu.org.
---