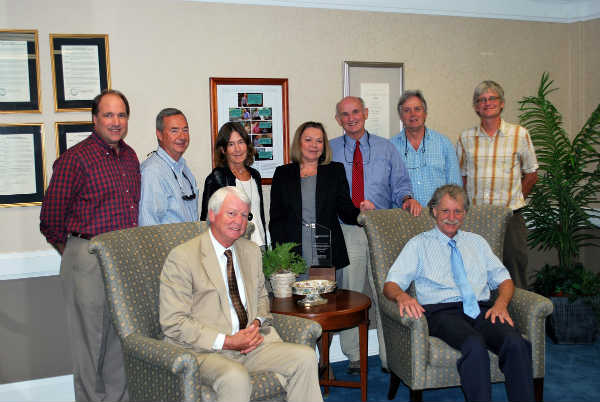 SECU partners with North Carolina Botanical Gardens to "Go Native!"
RALEIGH, NC (September 25, 2013) — State Employees' Credit Union (SECU), based in and focused on North Carolina, has partnered with the North Carolina Botanical Gardens and architects O'Brien Atkins to develop landscaping templates for SECU branches using only North Carolina native plants.  The idea was suggested by SECU member Tom Earnhardt, who is also the mastermind behind the award-winning program, Exploring North Carolina, which airs on local PBS station WUNC-TV.
Mr. Earnhardt said, "Few places on this planet have the extraordinary diversity of plants found here in North Carolina—from the spruce-fir forests in our mountains to live oaks and palm trees on our southeastern coast.  It's always seemed strange to me that some businesses, and even towns, often plant the same non-native trees over and over again.  As a member of State Employees' Credit Union, I was not at all surprised when the financial institution with the best member service in the State, also agreed that it should LOOK like North Carolina.  Kudos to SECU for showcasing native trees, shrubs, and flowers found in the regions where its branches are located!  This is just another way in which SECU is leading the way."
SECU representatives recently met with Mr. Earnhardt and officials from O'Brien Atkins and the North Carolina Botanical Gardens to discuss the initiative, which will include demonstration projects at new SECU branches in each of North Carolina's three geographical regions—Mountains, Piedmont and Coastal Plains.
David King of SECU Board of Directors noted, "As a North Carolina cooperative, we look to promote and encourage projects that benefit our State and its citizens.  This initiative will allow SECU to help NC-based nurseries, while stimulating local jobs and the economy.  We look forward to working with our partner groups to 'go native' with the SECU landscape."
Dot Hinton, Senior Vice President of SECU's Facilities Services responded, "In addition to supporting locally-based businesses, the use of native landscapes will provide a greater chance of plant survival, thus reducing the costs of landscaping maintenance.  We appreciate Mr. Earnhardt for suggesting this idea.  The positive effects of this effort will be seen and felt statewide."
About SECU
A not-for-profit financial cooperative owned by its members, SECU has been providing employees of the State of North Carolina and their families with consumer financial services for over 75 years.  With 1.8 million members, SECU provides services through 250 branch offices, 1,100 ATMs, 24/7 Contact Centers and a website, www.ncsecu.org.
---