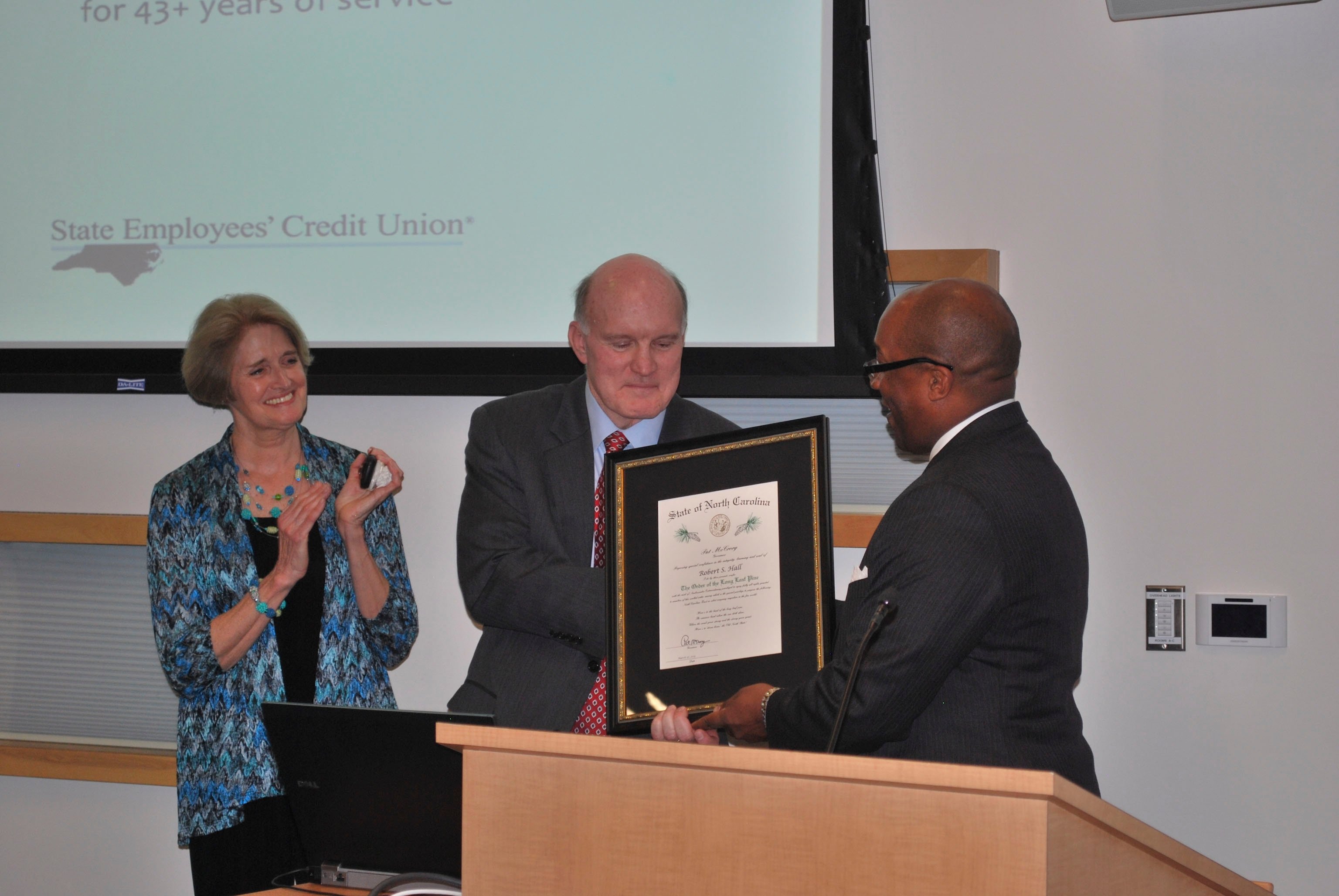 SECU Senior Executive Vice President Bobby Hall Retires After 43+ Years of Service.
RALEIGH, NC – After a lifelong career spanning over 43 years with State Employees' Credit Union (SECU), Senior Executive Vice President Robert (Bobby) S. Hall retired from the organization at the end of March.  In honor of his distinguished service, leadership, and commitment to SECU and the credit union industry, a retirement reception was held  March 28th in Raleigh, NC, at the Nature Research Center, the new wing of the NC Museum of Natural Sciences and home to the SECU Daily Planet.  In addition to many family members and friends, Mr. Hall was honored by a large group of SECU staff and volunteers, as well as numerous credit union industry representatives.
During the reception, SECU Board of Directors Chair McKinley Wooten presented Mr. Hall with two special awards – a framed Certificate of Appreciation for his many years of dedicated service to the members of SECU, and a prestigious award bestowed by North Carolina Governor Pat McCrory, The Order of the Long Leaf Pine.  Another hallmark moment of the event was a musical tribute given by Mr. Hall's sons, Marcus and Rob, along with their friend Greg Tart.  SECU President Jim Blaine introduced a video highlighting Mr. Hall's career with words of congratulations from colleagues and friends.  Mr. Blaine noted, "I've always thought of Bobby Hall as the moral compass of this organization.  He is a man of integrity and faith and has always had his priorities in exactly the right place.  He will be greatly missed by all of his SECU family."
About SECU
A not-for-profit financial cooperative owned by its members, SECU has been providing employees of the State of North Carolina and their families with consumer financial services for 75 years.  With 1.8 million members, SECU provides services through 248 branch offices, 1,100 ATMs, 24/7 Contact Centers and a website, www.ncsecu.org.
---