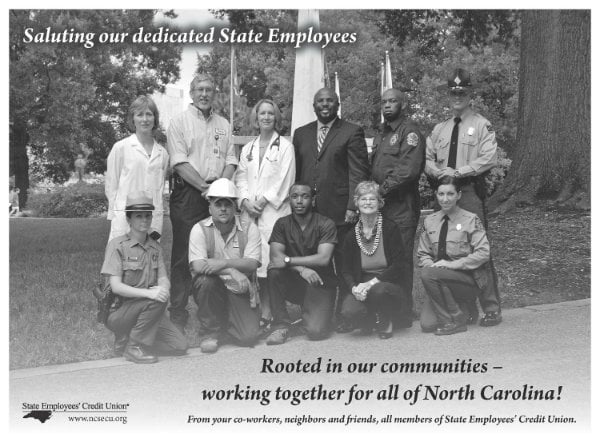 SECU shows appreciation to NC's state employees in hometown newspapers
RALEIGH, NC (September 10, 2014) — State Employees Appreciation Week is September 8th-13th and to honor the occasion, State Employees' Credit Union (SECU) is giving a "shout out" to this dedicated group for their tireless efforts in serving the citizens of North Carolina.  The thank you comes in the form of an advertisement being published in hometown and community newspapers statewide throughout the week.
The advertisement is the third in a series of ads produced by SECU, with the first saluting North Carolina Press employees on Constitution Day last fall, in partnership with the North Carolina Press Association Federal Credit Union.  Another highlighted the State's public school employees in February.  State Employees' Credit Union's membership base consists of North Carolina state and public school employees and their families.
"The Credit Union enlisted the help of the North Carolina Office of State Human Resources to highlight the many professions and faces of State Government working to benefit the citizens of our State.  SECU is privileged to serve North Carolina's hardworking State employees and this ad provides a great opportunity to show our appreciation in the hometowns and communities in which these folks live and work," said Sandra Jones, SECU's Senior Vice President of Member Communications.
About SECU
A not-for-profit financial cooperative owned by its members, SECU has been providing employees of the State of North Carolina and their families with consumer financial services for 77 years.  With more than 1.9 million members, SECU provides services through 254 branch offices, 1,100 ATMs, 24/7 Contact Centers and a website, www.ncsecu.org.
---