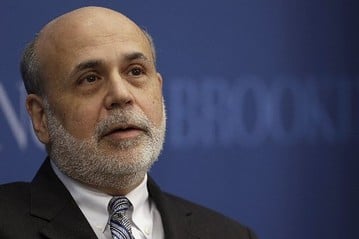 SECU suggests Ben Bernanke consider a credit union mortgage
RALEIGH, NC (October 3, 2014) — The latest HMDA data for 2013 has just been released and there seems to be a bit of concern. Why should HMDA data be concerning? The Home Mortgage Disclosure Act (HMDA) calls for data on residential mortgages to be collected by the Federal Financial Institutions Examination Council (FFIEC) from financial institutions on an annual basis. Data collected includes the type of loan, the property location, whether the loan was approved or denied and applicant information such as race, sex and income, in order to monitor whether financial institutions are serving the housing credit needs of their communities. For originated loans, institutions report whether a loan meets criteria to be considered a higher-priced mortgage — loans where the Annual Percentage Rate (APR) is 1.5% or greater than the average APR for prime mortgages which conform to all secondary market guidelines and the borrower has 20% equity or more in their home. While that sounds confusing, the simple fact is this — these higher priced mortgages are scrutinized more closely to ensure that borrowers are not overcharged nor treated unfairly. Essentially, HMDA is designed to promote fairness in lending. No accommodation is provided, however, for higher loan-to-value loans (loans where a borrower does not have 20% equity or the ability to make a 20% downpayment on a purchase), loans which pose a higher risk to the lender.
Recently, one of SECU's peers, Navy Federal Credit Union, received some adverse press for making a larger number of higher-priced mortgages than most other lenders, even though Navy Federal's 5% APR loans are open to all of its members and don't require mortgage insurance or a down payment. What does this have to do with State Employees' Credit Union? SECU, in fact, has a larger percentage of higher-priced mortgages than Navy Federal — and we're proud of it! Here's why. SECU originates 100% loan-to-value (no downpayment) loans under the Credit Union's 5-year Adjustable Rate Mortgage program with a current starting rate of just 4.5% (4.58% APR), and no requirement of mortgage insurance (typically required if there is less than 20% equity in a home). Making 100% mortgages is not new to State Employees' Credit Union, which has been originating such mortgages for 20 years and currently carries nearly $3 billion in 100% loans on its balance sheet. Increasing costs and 20% downpayment requirements of many mortgage lenders, however, have made the Credit Union's 100% program more popular in recent years. The need for affordable financing in the marketplace has also prompted SECU to go a step further and reach out to many members to refinance homeowners out of other lenders' unaffordable mortgages. With SECU's overall low chargeoff ratio of .19% (less than two-tenths of 1%), not only does it make good financial sense for the organization, but providing folks the initial opportunity of homeownership or refinancing them out of high-cost loans results in an investment that builds wealth and job creation — a key to economic recovery! SECU's Mortgages are a win for the State of North Carolina — period, end of story, regardless of any HMDA data!
Just ask Shannon and Cadedra Leach who visited a Raleigh SECU branch to inquire about first mortgage financing. The members had already been approved by another financial institution, but were "shopping around" for the best rate. They were encouraged by friends to speak with a SECU Financial Services Officer. Mr. & Mrs. Leach disclosed to SECU Rep Edith Harrison that their rate approved at the other financial institution was significantly higher than the SECU offering and they would have to pay approximately $7,000 out-of-pocket for down payment and closing costs. With a 100% mortgage approval from SECU, the Leach family closed with just over $1,500 in required closing costs. Not only did the Credit Union's program enable this family to keep over $5,000 in their pockets, but the lower SECU mortgage interest rate also provided monthly savings! Mr. and Mrs. Leach state, "We are very happy we came to SECU for our mortgage loan. The service was excellent and we were amazed at how quickly and efficiently our loan was processed.  Our down payment was much less than what another lender required and a better interest rate reduced our monthly payment, which makes a positive financial difference for our family.  The Financial Services Officer at our local branch not only helped us through the mortgage loan process, but offered additional assistance with our homebuying needs."
Spencer Scarboro, SECU's Lending Integrity Senior Vice President, states, "Providing affordable mortgage financing options for members is critical in helping to make a positive difference in our State's economy. With overall loss ratios of less that two-tenths of 1%, SECU is positioned financially to serve its members with our beneficial 100% First Time Homebuyers option or other refinancing options, assuring that members invest back into the State of North Carolina. We look forward to helping more members just like the Leach family take advantage of a low-cost option of homeownership."
About SECU
A not-for-profit financial cooperative owned by its members, SECU has been providing employees of the State of North Carolina and their families with consumer financial services for 77 years.  With more than 1.9 million members, SECU provides services through 254 branch offices, 1,100 ATMs, 24/7 Contact Centers and a website, www.ncsecu.org.
---