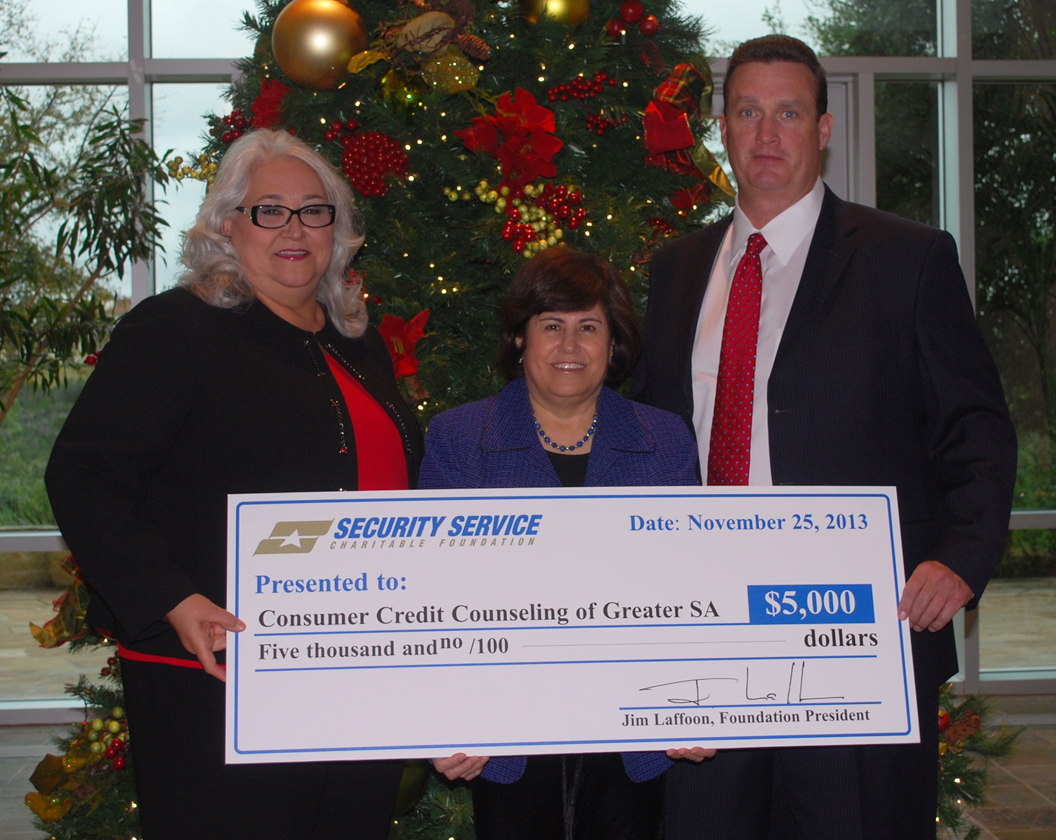 Security Service charitable foundation presents $5K donation to consumer credit counseling services of greater SA
SAN ANTONIO, TX (November 27, 2013) — The Security Service Charitable Foundation recently selected Consumer Credit Counseling Services of Greater San Antonio (CCCSSA) as the recipient of a $5,000 donation. Security Service Federal Credit Union (SSFCU) representatives, Jim Laffoon, president (right), and Letha Harrelson, manager of business development (left), presented the check on behalf of the Foundation to Gloria Delgado, president and CEO of CCCSSA (center).
The funds will be used to provide financial education classes to help low- and moderate-income families create budgets, manage their debt and help resolve other financial issues. The Security Service Charitable Foundation helps to further SSFCU's corporate goal of community service by contributing to deserving organizations and causes in the credit union's market areas.
About Security Service Federal Credit Union
Security Service Federal Credit Union offers competitive, affordable financial products and services designed to meet the needs of its members.  Headquartered in San Antonio, Texas, Security Service is an industry-leading financial institution with $7.5 billion in assets and 70 locations in Texas, Colorado and Utah.  The credit union is among the top 10 credit unions in the nation.  Security Service strives to be America's best credit union and provides the true benefits of credit union membership with financial services of the highest quality and value.  Learn more at www.ssfcu.org or call 1-888-415-7878. 
---