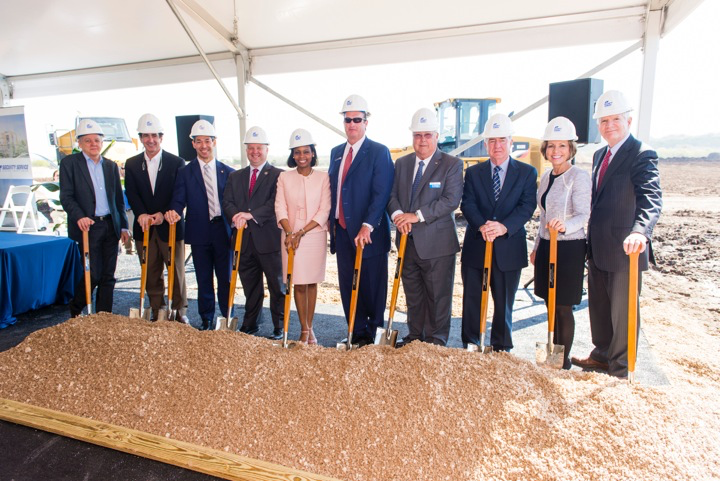 Security Service Federal Credit Union breaks ground on New Corporate Campus in San Antonio
 Creating new jobs, building new infrastructure and leaving a lasting impact on San Antonio       
SAN ANTONIO, TX (March 24, 2015) — Laying the ground work for a stable future and continued growth, Security Service Federal Credit Union officially broke ground on its new corporate campus today. Once complete, Security Service Park will include an operations center, event center, tower, a parking garage and other amenities located at 15000 IH-10 West near UTSA Blvd.
"Security Service has a long history with San Antonio, this is where we were founded in 1956 and today we are building upon that foundation," said Jim Laffoon, president and CEO of Security Service Federal Credit Union. "This expansion will not only provide much needed infrastructure for San Antonio, but it will also allow us to grow as a credit union, creating new jobs and expanding resources for our members in Texas, Colorado and Utah."
The operations building and amenities center will span 270,000 square feet and will house an initial 747 employees with plans to hire an additional 200 in the future.  The expansion will allow Security Service to attract and retain the best and brightest banking and financial professionals across the country.
The new campus will include improvements to infrastructure; a new road to be named Security Service Parkway as well as a bridge and much needed improvements to drainage in the area.
"I applaud Security Service for laying a foundation that will help us build a better community for our residents for years to come," said San Antonio Mayor Ivy Taylor.  "The drainage project will positively impact nearby homeowners and businesses, while the road improvements to UTEX Boulevard will improve the commute of thousands of UTSA students."
"A diverse economy is a strong one. When we partner with a leader in a key growth sector like financial services, we bolster the economic strength of not only San Antonio, but the entire South Texas region." said District 8 Councilman Ron Nirenberg.
Other key leaders throughout the city and county supported the corporate campus expansion by realizing the lasting impact of Security Service on San Antonio and Bexar County.
"Our community has a reputation for coming together to provide local companies with the support they need to stay, grow, and prosper in San Antonio," said Steve Waters, board chairman of the San Antonio Economic Development Foundation.  "The new headquarters for Security Service is a perfect example of that commitment, and of the partnership the community seeks to achieve with local businesses."
The San Antonio Economic Development Foundation leads the San Antonio Business Retention and Expansion efforts.  They were instrumental in the collaboration needed to make this expansion a reality.
"This demonstrates the importance of the city's business retention strategy," said City Manager Sheryl Sculley.  "Security Service is retaining 747 jobs and they are creating 200 additional jobs that will aid in the future growth of San Antonio."
"The credit union has a long history of service in our community," said Bexar County Commissioner Kevin Wolff.  "This expansion solidifies the personal commitment to our county and the people who live here."
Housed within the operations center will be a 24 hour call center, providing service nation-wide.  In addition, Security Service has regional offices located in the Costal Bend, Rio Grande Valley, and El Paso; as well as locations in Colorado and Utah.
Construction will begin immediately, with the operations center scheduled for substantial completion in September 2016.  Lake Flato and RVK Architects designed the campus, and award winning general contractor Jordan Foster will manage the project.
Photo caption: Security Service Federal Credit Union's corporate headquarters groundbreaking ceremony from left to right included construction partners David Lake of Lake Flato Architects and Darren Woody, president and CEO of Jordan Foster Construction; District 8 San Antonio City Councilman Ron Nirenberg; Precinct 3 Bexar County Commissioner Kevin Wolff; San Antonio Mayor Ivy Taylor; Security Service president and CEO Jim Laffoon; Security Service board chairman Jim O'Farrell; construction consultant Jack Dysart, president of Dysart LLC; San Antonio City Manager Sheryl Sculley; and San Antonio Economic Development Foundation board chairman Steve Waters.
About Security Service Federal Credit Union
Security Service Federal Credit Union offers competitive, affordable financial products and services designed to meet the needs of its members. Security Service is an industry-leadingfinancial institution with 70 locations in Texas, Colorado and Utah. The credit union is among the top 10 credit unions in the nation.  Security Service strives to be America's best credit union and provides the true benefits of credit union membershipp with financial services of the highest quality and value.  Learn more at www.ssfcu.org or call 1-888-415-7878.                                                
---