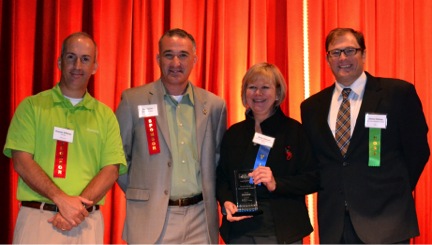 Security Service Federal Credit Union named a San Antonio healthy workplace
SAN ANTONIO, TX (October 24, 2013) — Security Service Federal Credit Union (SSFCU) is one of the healthiest workplaces in San Antonio. At an awards ceremony on Thursday, the San Antonio Business Journal (SABJ) recognized the credit union for its CU Fit program with a second-place citywide award.
A collaboration between the SABJ and sponsor Humana, the healthiest workplace award honors employers with programs and "initiatives that promote the well-being of their employees and are committed to making wellness a priority." Employers were selected based on the results of a survey conducted by an independent research firm and were ranked in six categories ranging from culture and leadership to strategic planning.
"We highly value our employees and want to provide them and their family the tools to help them live smarter, healthier lifestyles," said Jim Laffoon, SSFCU president. "Our investment in the CU Fit program will continue to pay dividends for all of us now and in the future."
The credit union's CU Fit program features a wellness program with a variety of options. There is a rewards program for daily activities that contribute to a healthy lifestyle such as walking and eating low-calorie foods. SSFCU's employee cafeteria was the first from a local corporation to be certified "!Por Vida! (For Life)," the healthy menu initiative developed by the San Antonio Metropolitan Health District.
"We are delighted to receive this recognition. Our CU Fit program has been a huge success for the past five years, and we are continuing to expand it based on employee interest and feedback," said Molly Daniels, senior vice president of human resources. "We partner with products and services like Humana Vitality that have our employees' health interests at heart."
SSFCU has more than 1,700 employees at 70 locations throughout Texas, Colorado and Utah.
About Security Service Federal Credit Union
Security Service Federal Credit Union offers competitive, affordable financial products and services designed to meet the needs of its members. Headquartered in San Antonio, Texas, Security Service is an industry-leading financial institution with $7 billion in assets and 70 locations in Texas, Colorado and Utah. The credit union is among the top 10 credit unions in the nation. Security Service strives to be America's best credit union and provides the true benefits of credit union membership with financial services of the highest quality and value. Learn more at www.ssfcu.org or call 1-888-415-7878.
---