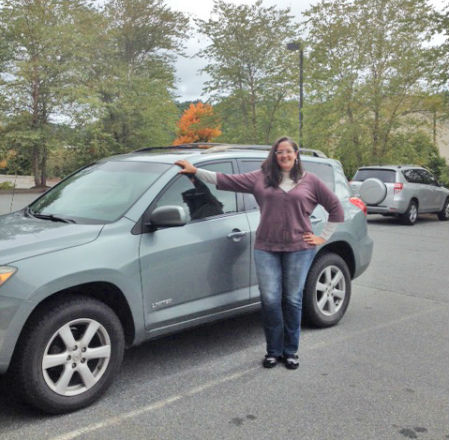 SECU's Auto Power Program now includes used car purchases!
RALEIGH, NC (September 30, 2014) — State Employees' Credit Union (SECU) is putting members in the driver's seat with its increasingly popular Auto Power program, an enhanced service to the Credit Union's vehicle loan pre-approval process. Receiving great member reviews since the program rolled out for new car purchases in May 2013, SECU recently expanded Auto Power to include the purchase of used vehicles. In less than two months since the expansion, SECU personnel statewide have assisted over 600 members with the financing of both new and used vehicles using the program.
SECU's Auto Power program offers substantial benefits for members who want the flexibility and convenience of a pre-approved Credit Union check to help accelerate the auto purchase process. Valid up to a specific dollar amount, the Auto Power check provides members with the ability to make a deal for the vehicle of their choice, present the check to the dealership for payment, and with keys in hand, drive away in a newly purchased vehicle without having to contact the Credit Union.
SECU member Tanna Baumgardner-Greathouse of Boone, N.C., recently purchased a used car via the Auto Power program. She remarks, "The program gave me the power of having 'cash in hand' while looking at used vehicles, and once I found the perfect car, it was a quick and simple transaction to purchase it on the spot."
"As a trusted financial services provider, it is important to give members the best possible tools to help them make major financial decisions," comments Mark Coburn, SECU Senior Vice President of Lending Development. "With competitive loan rates for all members, along with enhanced service options such as Auto Power, members have greater convenience and a better overall car-buying experience."
"By getting my loan through the Credit Union, I knew I would be in control of financing options with a great interest rate, and would not feel pressured by car dealerships to finance with their lender," adds Ms. Baumgardner-Greathouse. "I highly recommend using the Auto Power program to other members!"
About SECU
A not-for-profit financial cooperative owned by its members, SECU has been providing employees of the State of North Carolina and their families with consumer financial services for 77 years. With more than 1.9 million members, SECU provides services through 254 branch offices, 1,100 ATMs, 24/7 Contact Centers and a website, www.ncsecu.org.
---