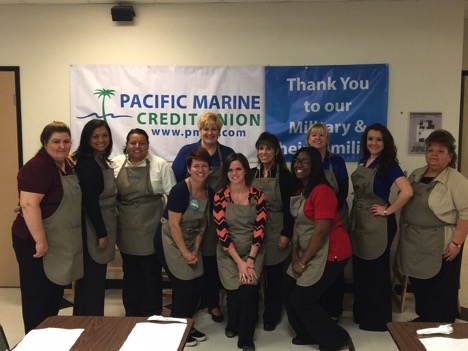 Serving it up to those who serve
PMCU Hosts Dinner for the Military
OCEANSIDE, CA (March 19, 2015) — Pacific Marine Credit Union (PMCU) proudly sponsored the USO San Diego Tuesday Night Dinner on March 3, 2015. Ten PMCU employees volunteered their time to serve food to our military men and women and their families.
"We were so happy to sponsor the Tuesday Night Dinner and give not only funds, but our time to thank our military members and their families for their service", said Nancy Harvey, Community Relations Officer at Pacific Marine Credit Union.
Military families enjoyed a delicious dinner of rotisserie chicken, salad, vegetables and cake catered by GR Catering. Every Tuesday the USO San Diego hosts a dinner at their downtown San Diego center. There are about 200 military families that come out each week for the dinner.
USO San Diego was established in 1941 and serves active-duty military, military families, Healing Heroes and Families of the Fallen. The mission of the USO is to improve the quality of life for U.S. Armed Forces personnel and their families worldwide and to create a cooperative relationship between U.S. Military communities and involved or supporting civilian communities.
Photo Credit:
PMCU Volunteer Team (from left to right, back row): Kendra Buksas, Miriam DeLeon, Lisa Noriega, Kate Baker, Randi Brooke, Sandra Spendlove, Christina-Marie Albertson, and Sonia Donald. (From left to right, front row): Nancy Harvey, Meghan Roberts, and Cher'Nea Green.
About Pacific Marine Credit Union
Founded in 1952, Pacific Marine Credit Union is a non-profit financial institution whose deposits are federally insured. PMCU offers a full-range of competitive financial products to the residents of San Diego, Riverside, and San Bernardino counties. Today, Pacific Marine Credit Union holds $691 million in assets, has over 77,000 members with a total of 11 branch locations. Visit www.pmcu.com for more information.
PMCU is open to everyone who lives or works in San Diego, Riverside, and San Bernardino Counties. Pacific Marine Credit Union is federally insured by the National Credit Union Administration and is an Equal Housing Lender.
---