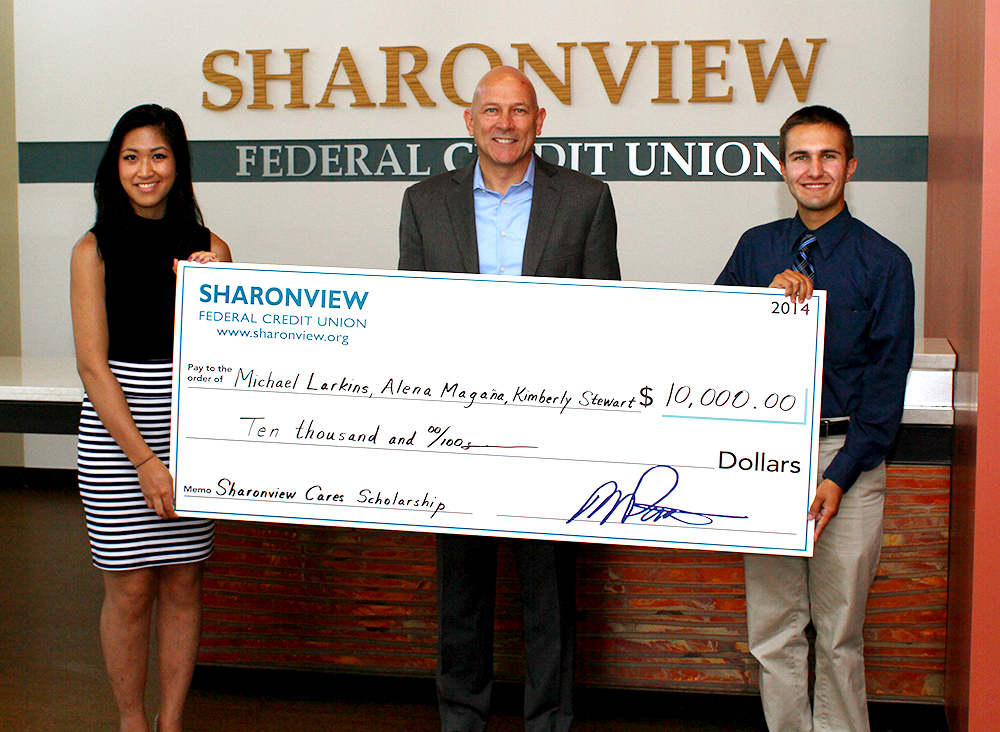 Sharonview awards Sharonview Cares scholarship funds totaling $10,000
FORT MILL, SC (August 7, 2014) — On Aug. 6, Sharonview Federal Credit Union awarded Sharonview Cares Annual Scholarship funds totaling $10,000 to three deserving students: Michael Larkins of Fayetteville, N.C., who will attend North Carolina State University, was awarded $5,000; Kimberly Stewart of Fayetteville, N.C., who will attend Fayetteville Technical Community College, was awarded $2,500; and Alena Magaña of Salisbury, N.C., who is currently attending Rowan-Cabarrus Community College, was awarded $2,500.
The winners were chosen from over 200 applicants planning to attend an accredited college or university in Fall 2014 or Spring 2015, and the selection criteria was based on academic achievement, community involvement and an original essay.
Sharonview Federal Credit Union President and CEO Bill Partin said, "We are so pleased to be able to present these awards to Michael, Kimberly, and Alena." Partin, who was key in bringing the scholarships to life, added, "Our organization prides itself on improving the financial well-being of our members, and hopefully we can help alleviate some of the financial burden that comes with the cost of higher education for these students."
Photo Caption: (From Left to Right) Alena Magaña, President/CEO Bill Partin and Michael Larkins (Not Pictured: Kimberly Stewart)
Established in 1955, Sharonview has been a trusted financial partner to our members, providing consistently better value and truly personal service. Today, Sharonview holds over $1 billion in assets and provides a full suite of deposit, loan and investment services to over 66,000 members through a network of 16 branches located in North Carolina, South Carolina, New Jersey, as well as through our full-service call center and free Online and Mobile Banking systems.
---