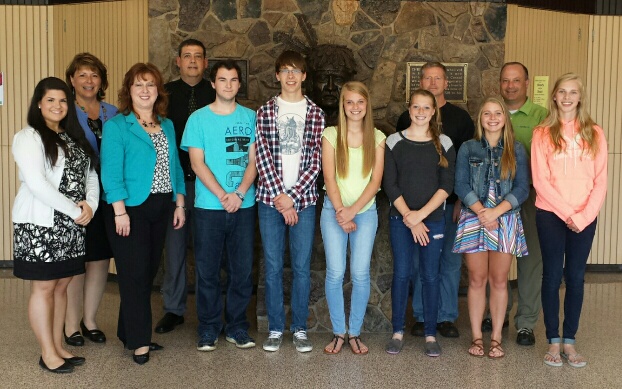 Shikellamy School District receives grant for Stock Market Game
DANVILLE, PA (6.26.2014) — Service 1st Federal Credit Union and the Pennsylvania Credit Union Foundation (PACUF) awarded the Shikellamy School District a $5,000 grant to offer the Stock Market Game Program (SMGP) to students in the Shikellamy School District for the 2014-15 school year.  The SMGP is offered in conjunction with EconomicsPennsylvania.  It is an engaging educational program used in classrooms, grades 4 – 12, nationwide to teach economics, math, social studies, language arts and technology while focusing on the importance of developing real world, personal finance skills.
Starting with a virtual cash account of $100,000, students strive to create the best-performing portfolio using a live trading simulation.  Student use real Internet research and news updates, making the simulation an even better mirror of the real marketplace.  They work together in teams, practicing leadership, organization, negotiation, and cooperation as they compete for the top spot.  In building a portfolio, students research and evaluate stocks, and make decisions based on what they've learned.
Students who participate in the program gain confidence and build self-esteem.  They have fun – and learn more effectively as they see how their classroom lessons apply to the real world.  Research has shown there's no better way to teach the importance of saving and investing.  In addition, many teachers have discovered that the SMGP actually boosts attendance and reduces dropout rates.
"The Stock Market Game is a fun, interactive way for students to learn and we're happy to be able to reach more Shikellamy students with this grant," comments Linda Brown, Chief Administrative Officer for Service 1st Federal Credit Union.  "Approximately 12 members of our Service 1st team will be playing along with the students to add to the challenge," she adds.
Service 1st acknowledged Representative Lynda Schlegel-Culver for her interest in the program.  The idea for the grant came from ongoing conversations Service 1st has had with Representative Schlegel-Culver on the importance of educating students about financial matters.  "As parents, educators, government representatives, and financial institutions, it is important that we invest the time, energy, and resources into teaching our children financial literacy.  Looking at our youth as the future leaders of our communities, our Commonwealth, and our Country, it is imperative they understand money, banking, and investing.  This knowledge will empower them with the skills to make informed financial decisions," comments Rep. Schlegel-Culver.
EconomicsPennsylvania is the state's premier financial literacy and economic education service provider.  It is accredited by the National Council on Economic Education and designated by the Foundation for Investor Education as a Stock Market Game Premier Partner State.
The PACUF was formed in 1996 to benefit consumers and credit unions alike.  The Foundation is a non-profit, tax-exempt organization with a main purpose of providing individuals, credit unions and their communities with the human and financial resources to stimulate socio-economic growth.  This represents the second grant Service 1st and PACUF have worked together on.  The first grant was in 2009 to promote financial literacy in the Danville Area School District.
Photo Caption
Service 1st Federal Credit Union and the Pennsylvania Credit Union Foundation presented the Shikellamy School District with a $5,000 grant to offer the Stock Market Game Program to students in the 2014-15 school year.  On hand for the presentation were, from left to right are Ariana Tavakoli, Executive Assistant – EconomicsPennsylvania; Linda Brown, Chief Administrative Officer – Service 1st; State Rep. Lynda Schlegel-Culver; Ernest Jackson, Principal – Shikellamy High School; Brendon Strevig, Shikellamy Student; Christian Wirt, Shikellamy Student; McKenzie Zellers, Shikellamy Student; Elise Brubaker, Shikellamy Student; Tim Foor, Business Teacher – Shikellamy High School; Connor Sees, Shikellamy Student; Jeff Balestrini, Chief Lending Officer – Service 1st; and Payton Kearney, Shikellamy Student.
Service 1st Federal Credit Union is a full-service, financial institution providing service to more than 23,000 members with total assets exceeding $230 million. Service 1st has current branch offices located in Danville, Lewisburg, Loyalsock, Mifflinburg, Shamokin Dam, Wilkes-Barre. For more information about Service 1st, visit www.service1.org
---