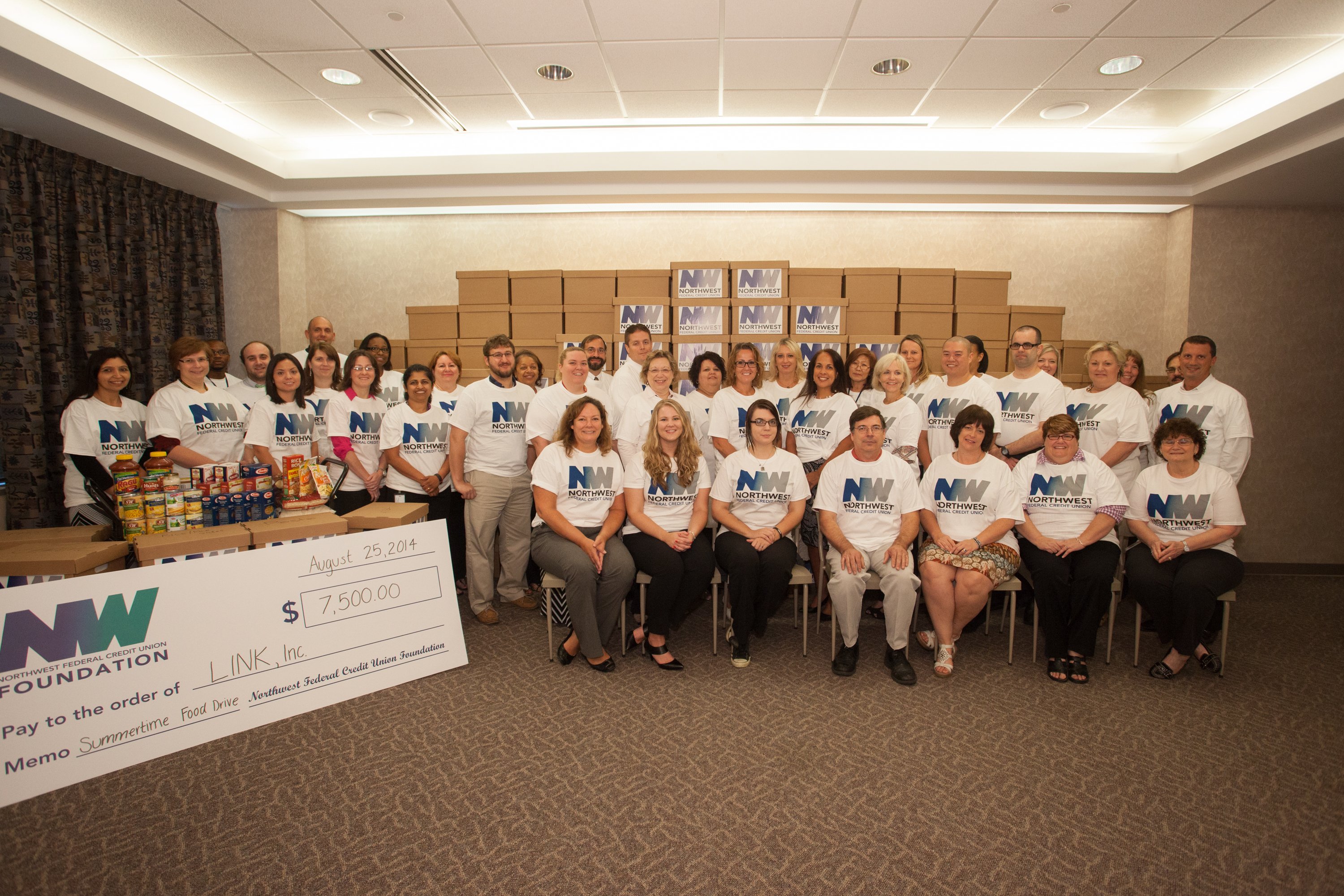 Six-ton Challenge is Ten-ton Success: Northwest Federal's first Summertime Food Drive far exceeds expectations
HERNDON, VA (August 28, 2014) — Knowing that the need for food donations is critical during summer months, Northwest Federal Credit Union and its Foundation raised the bar for their first Summertime Food Drive: 12,000 pounds – or six tons – of non-perishable food items. This week, the Credit Union announced it had exceeded its goal by 62 percent: 19,388 pounds in food and donations were collected … nearly 10 tons!
"That's a lot of spaghetti sauce, peanut butter, canned juice and cereal," said Chris McDonald, President/CEO of Northwest Federal. "We knew 12,000 pounds was a substantial goal – much larger than any we've set before. But our staff, members and friends in the community really stepped up to the challenge. What a difference their efforts will make in helping to feed those in need."
The recipient of the food and money donations is LINK, Inc., an organization providing emergency food to people living throughout many Northern Virginia communities. During the summer, LINK's donations run low and shelves thin out as the need for assistance spikes without school resources to help local families feed their children.
"With these donations, hundreds of families will be grateful recipients of your efforts in our community," said Lisa Lombardozzi, LINK President. "LINK is certainly grateful and feeling pretty downright special right now. Thank you!"
McDonald announced the food drive results and presented the donations to LINK at a special event on Aug. 25, where he credited Northwest Federal staff for its tireless enthusiasm and key role in the food drive's success. "This was a real team effort – and no doubt one of the largest, most successful food drives in Northern Virginia," he said.
The challenge concluded with a presentation of awards to the employee teams who collected the most donations, then the employee volunteers loading a truck with food items and delivering them to LINK.
"Thousands and thousands of pounds of food on top of the $7,500 donation – it is simply A-MAZ-ING," said Lombardozzi.
To learn about Northwest Federal, its Foundation and their work to support the communities they serve, visit www.nwfcu.org and www.nwfcufoundation.org.
About Northwest Federal Credit Union
Northwest Federal Credit Union is a full-service financial institution ranking among the largest credit unions in Virginia and in the top 50 credit unions in the nation. Established in 1947 and headquartered in Herndon, Va.,
Northwest Federal is dedicated to providing financial services and education to its members and the community. The Credit Union currently serves more than 125,000 members and has assets in excess of $2.5 billion. For more information, visit www.nwfcu.org.
About Northwest Federal Credit Union Foundation
The Foundation was established in 2004 to promote and manage Northwest Federal Credit Union's philanthropic activities. The mission of Northwest Federal Credit Union Foundation is to strengthen our community through our scholarship, mentoring and youth outreach programs. The Foundation is a 501(c)(3) organization. Donations are tax deductible to the extent permissible by law for those who itemize deductions. For more information, visit www.nwfcufoundation.org.
---