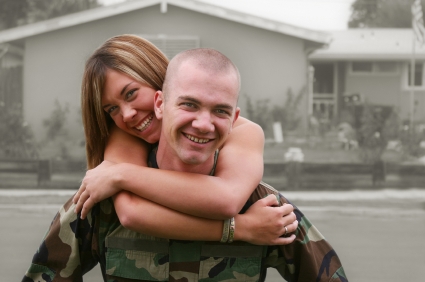 Sneak Peek of Top 13 Best Discounts for Active Military Personnel, Veterans, Retirees and Their Families
In honor of Independence Day and as part of the Financial Freedom series, GoBankingRates.com and Air Force Federal Credit Union release their list of the best money-saving military discounts and deals.
EL SEGUNDO, CA (July 3, 2013) Today's United States military personnel totals over 1.4 million, according to the most recent Department of Defense report. While a small percentage of the total U.S. population, these courageous volunteers protect the freedom all Americans will celebrate this Independence Day. To honor these heroes and give thanks, GoBankingRates.com highlights the best deals available that offer relief during tight financial times.
"In these difficult times and economic hardships, our men and women of the military have a thankless job of protecting our freedom," says Danny Sanchez, VP of Marketing for San Antonio based Air Force Federal Credit Union. "The organizations that support the military community with discounts understand that this is a great way to honor them. This is just a small "Thank You" and repayment for their service and sacrifice."
The deals included in this round-up were selected based on several criteria, including:  nation-wide availability, amount of savings, utility in regards to one-time versus year-round savings, and overall appeal.
Below is a preview highlighting six of GoBankingRates' top thirteen picks (by category):
Technology:
1.       Apple offers discounts to current, former, and retired members of the U.S. military, National Guard, and Reserve as well as their families. Discount amounts vary by product and range from 5% up to 15% off. The discount applies to iMac, MacBook Air, MacBook Pro, Mac mini and Mac Pro as well as Apple Care Protection Plans.
2.       AT&T provides a 15% military discount on cell phone plans, including family plans, and other discounts on accessories.
Transportation:
1.       Greyhound offers a 10% discount for active duty, dependent family members, and retired military personnel. In addition, they provide the option to travel anywhere in the continental United States for a maximum round trip fee of $235 for military personnel past and present.
2.       AMTRAK also has a 10% discount on the lowest available rail fare for most trains and destinations for active military and family members.
Entertainment:
1.       Disneyland Resort honors military personnel through their discounted 3-Day Disneyland Resort Park Hopper tickets. Normally valued at $260 each, this ticket package is reduced to $125 per person for retired and active members of the armed forces, a savings of $135 or over 50%.
2.       The Armed Forces Vacation Club provides a fixed weeklong stay price for military personnel and their families to locations within the United States and internationally. Pricing from $349 for a seven day stay with several hundred locations to choose from.
For more information on why these deals are highlighted and to see the full selection of GoBankingRates picks, please visit http://gobr.co/5mu.
Other categories covered include home improvement and financial services.
About the Financial Freedom Series
In honor of Independence Day, this July, GoBankingRates.com, in partnership with Air Force Federal Credit Union, will feature multiple guides explaining the following financial programs, privileges and institutions available to military personnel, veterans and their families: 
The Military Savings Deposit Program (SDP), a 10% APY savings program.
VA disability compensation and pension programs.
Health and life insurance options (released on GoBankingRates.com partner site, GoInsuranceRates.com).
Military financial institutions membership.
About GoBankingRates.com
GoBankingRates.com is a personal finance website that connects readers with the best interest rates nationwide. GoBankingRates.com collects savings account and CD rates from more than 5,000 U.S. banks and credit unions, making it the only online rates aggregator to provide comprehensive and authentic local interest rate information.
Additionally, GoBankingRates.com partners with a number of major media outlets such as Business Insider and US News & World Report to provide compelling personal finance content. Its expert editors have been featured and quoted on several premier finance websites such as Yahoo! Finance, Forbes, The Street, and Huffington Post.
About Air Force Federal Credit Union
Air Force Federal Credit Union is a not-for profit financial cooperative that takes great pride and honor in the ability of serving the financial needs of military members and their families. Headquartered in San Antonio, Air Force FCU serves the diverse needs of nearly 37,000 members across the United States. Currently, Air Force FCU is running a summer promotion for truth, justice and low auto loan rates. Please visit their site at airforcefcu.com/auto-loans.htm
---