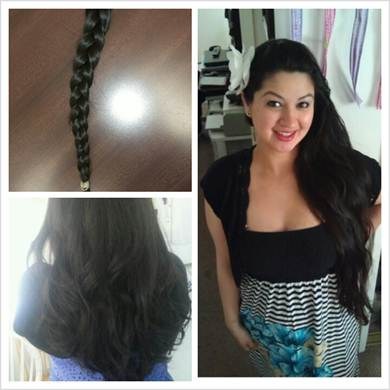 South Bay Credit Union donates hair for Locks of Love
REDONDO BEACH, CA (November 1, 2013) — Sarah Aguilar started out worried about her own hair, but ended up just happy to help children who had lost their own.
Aguilar, 31, a teller at South Bay Credit Union's Redondo Beach branch, has always had long hair. Recently, she decided she needed a change. But instead of just pampering herself at the salon, she braided her hair, had the stylist snip off the foot-long plait, and then packaged it up and sent it to Locks of Love, a Florida-based charity that provides hair "prosthetics" to children who have lost theirs to a wide range of diseases.
"It just warms my heart to know that I can make a difference in the life of a child," says Aguilar, 31. "I'll grow my hair out again and donate again."
A South Bay Credit Union employee for seven years, Aguilar says members noticed her new haircut and were touched when she explained her donation. "They say, 'Oh, that's really nice.' I hope that some of them will decide to donate their hair, too."
"I hadn't known I could donate, but I'm so glad I did," says Aguilar, who learned about Locks of Love from her supervisor, Maricela Jauregui. "If I can do it, anyone can.  It's nice to know that it can be put to better use. I'm a mom myself, so I can hardly find the words to express what it would mean."
It's not surprising that Aguilar decided to become a hair donor. Giving back to the community is part of the ethic at South Bay Credit Union.
"There are so many ways people can help others," says Jennifer Oliver, president and CEO of South Bay Credit Union. "People at South Bay are always looking for ways to give back to the community. In fact, two of our employees have just become bone marrow donors, and we just completed a school supplies drive with the help of members and staff to help local schools.
"Credit unions are cooperative entities," Oliver adds. "We want to work with our communities to make them stronger and better."
Aguilar knows it takes a village to make a hairpiece. Six to 10 donated ponytails, which must be at least 10 inches long, are needed for each hairpiece. Locks of Love provides custom-fit prostheses to children age 6 to 21 at no charge or on a sliding scale based on ability to pay. Hairpieces can cost from $3,000 to $6,000 in the retail market. Many of the children and young adults who receive hairpieces from Locks of Love suffer from alopecia areata, an autoimmune disorder that shuts down hair follicles, or have lost hair from radiation therapy or chemotherapy, severe burns or trauma. Children younger than 6 or those who are suffering from a short-term hair loss can receive synthetic hairpieces.
More information about donating hair can be found at http://www.locksoflove.org/donate.html.
"I hope others will realize they can make a difference too," Aguilar says.
---