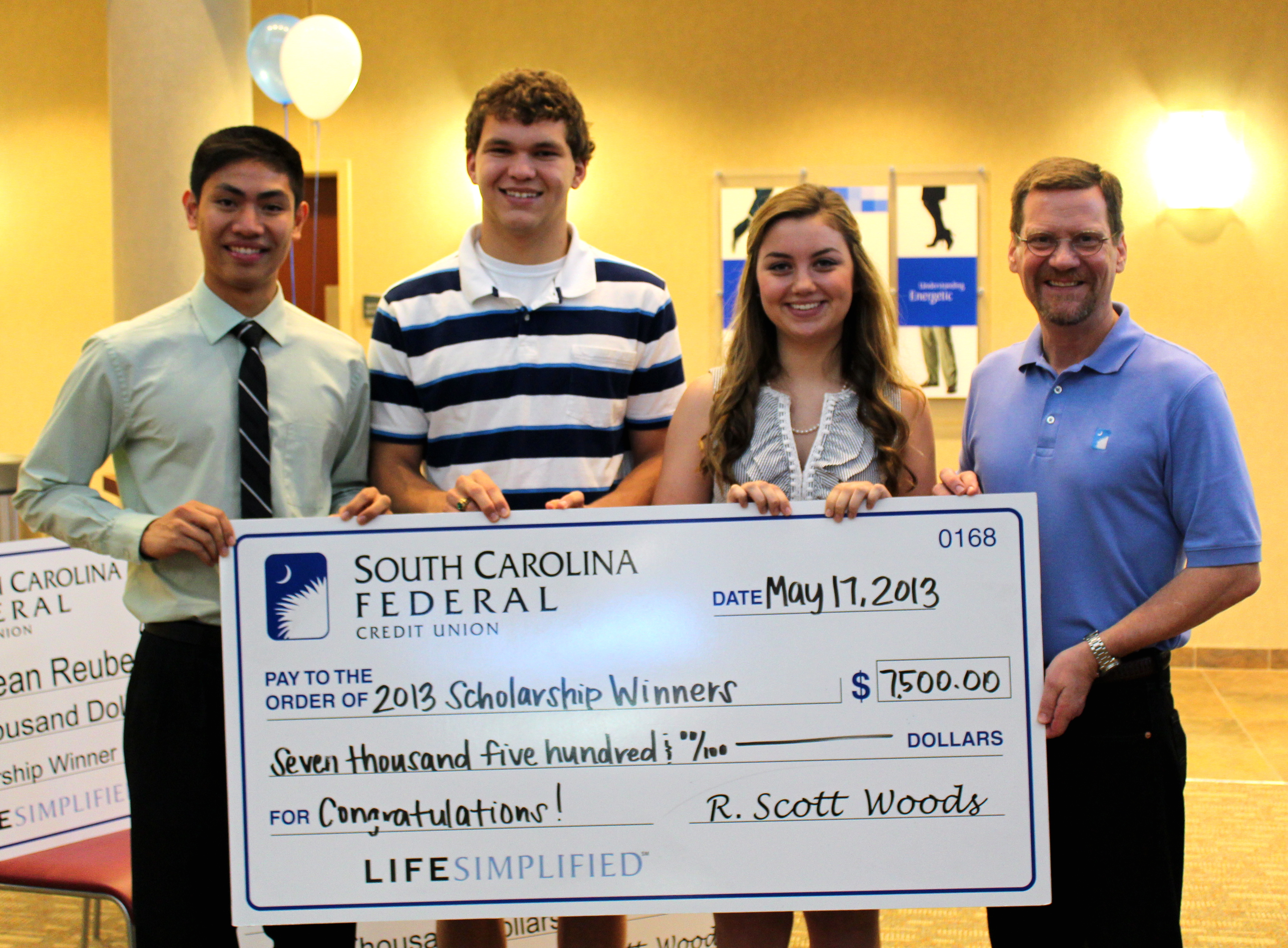 South Carolina Federal Credit Union Awards $7,500 in Scholarships
N. CHARLESTON, SC (May 20, 2013) South Carolina Federal Credit Union awarded $7,500 in scholarship prizes to three students. The winners include:
Bailey-Jean Walker received the 1st Place prize of $4,000. Walker attends Clemson University and is a Bio-Materials Engineering major.
Carson Davis received the 2nd Place prize of $2,500. Davis attends Summerville High School and plans to attend the University of South Carolina Honors College.
Dean Reuben Millare received the 3rd Place prize of $1,000. Millare attends Stratford High School, in Goose Creek, and plans to attend the Clemson University.
"Out of the nearly 100 applications received, we're proud to award these three deserving students with scholarship money to further their education," said Scott Woods, President & CEO, South Carolina Federal.  "We realize an investment in education is an investment in the future of our community, and we are proud to invest in tomorrow's leaders."
Candidates were required to submit an application, letter of recommendation, transcript and written or video essay.  In the essay, students shared how the credit union's philosophy of "People Helping People" impacted their lives. The top three students were selected by both internal and external judges.
For more information on the scholarship visit http://youngfreesc.com/2013-scholarship/.
About South Carolina Federal
South Carolina Federal Credit Union is headquartered in North Charleston.  More than 140,000 members own and belong to the not-for-profit financial cooperative, which has over $1.3 billion in assets. South Carolina Federal is a community-chartered credit union. Anyone who lives, works, worships or attends school in Berkeley, Charleston, Dorchester, Calhoun, Orangeburg or Georgetown counties, and most of the Columbia area, is eligible to join. South Carolina Federal has 17 branches, and 74 ATMs throughout Charleston, Columbia and Georgetown. More information about South Carolina Federal can be found at scfederal.org or on the SiMPLE CENTS blog at simplecentsblog.org.
---