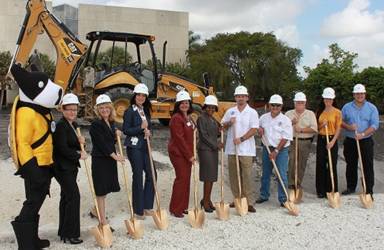 Space Coast Credit Union Breaks Ground On New Branch In Virginia Gardens
MELBOURNE, FL – Space Coast Credit Union (SCCU) hosted a ceremonial groundbreaking for its new branch location opening in Virginia Gardens.  The event took place at the construction site on April 10, 2013 with credit union representatives and local officials participating.  In attendance were Mayor Fred Spencer Deno IV, Councilman Jorge Arce, Councilman Richard L. Bock, and Belkis Romay, Executive Assistant to Commissioner Jose "Pepe" Diaz.  Also present was Jason Bartlett of Building Management Systems and SCCU representatives, Heather Hickman, Vice President of Branch Operations; Carmen Tapanes, Miami-Dade Director of Retail Services; Esther Jacomino, 36th Street Branch Manager; Olga Campo, Assistant Branch Manager; and Laura Richard, Vice President of Marketing.
"The new branch is part of a relocation initiative. We are moving SCCU's existing Miami Springs branch located at 700 S Royal Poinciana Blvd. in Miami Springs to the new location at 6301 NW 36th Street in Virginia Gardens. The 36th Street location is a well-traveled thoroughfare and provides members with greater access to the credit union" said Heather Hickman, Vice President of Branch Operations.
The new full-service branch, scheduled to open late summer 2013, will be located on NW 36th Street just west of NW 57th Avenue, and it will feature a drive-thru, self-servicing safe deposit boxes, and coin counter.  Employees from the Miami Springs Branch will be relocating to the 36th Street Branch, so members will continue enjoying the same friendly service.
Space Coast Credit Union was chartered in 1951 and is headquartered in Melbourne, Florida. The Credit Union serves over 239,393 members with assets of over $3 billion through a network of 57 branches and over 100 ATMs located throughout Florida and through its web site, SCCU.com. Space Coast Credit Union is open for membership to anyone who lives or works in the fourteen Florida counties it serves. Locations can be found at SCCU.com/locations.
---